---
---
Neko Candy Shop is a lewd(?) jigsaw puzzle featuring "Adorable girls".
---
Censorship?
No(?) Woot(?) Woot(?)
Hours of Gameplay?
Ten minutes.
Patch Available?
Download as DLC(?)
---
Foreword: published August 21st, 2021
---
I received a free, early access copy of this game for review purposes — thanks Hot Chill! It appears this game is intended to be offered with a adult-patch, but such a patch has yet to be released.
---
---
Gameplay: published August 21st, 2021 (2/5★)
---
There's are five puzzles to solve; by unscrambling assorted puzzle pieces, you'll unlock entries in the gallery. The difficulty is negligible, but each of them can be solved with a single button press using the "in-game assistant" (represented by a key icon).
---
---
---
Sexual Content: published August 21st, 2021 (NA/5★)
---
The in-game gallery suggests there are five nude (or lewd), static CGs — but I was not provided with an adult patch to confirm.
---
---
Story: published August 21st, 2021 (1/5★)
---
There is no story (and I'm not making one up!)
---
---
Sound: published August 21st, 2021 (3/5★)
---
There's a single, familiar track with jazzy interludes. It reminded me of a specific track from GenoSamuel's documentary on Chris Chan, played whenever Chris Chan's life was somehow even more depressing. After hearing Neko Candy Shop, I really wanted to rematch his "Comprehensive Documentary". Otherwise, the music is unremarkable (and painfully short on "repeat"). I enjoyed the paper-like sound effects when assembling puzzles.
---
---
Visuals: published August 21st, 2021 (2/5★)
---
The titlescreen looks great! It's nicely arranged, and the artwork is adorable. Audio and display preferences can be adjusted via the "pause" menu, but audio settings are total trash; they are not clearly outlined, and music cannot be muted independently from sound effects. Unlocked CGs can be reviewed from the "gallery" (represented by a photo icon), but the user-interface can't be hidden. Lacking backgrounds, CGs are imposed onto a close-up of a stock desk, which fails to provide a proper sense of scale.
---
---
Verdict: published August 21st 2021 (2/5★)
---
I'm not impressed. I wish I had a chance to sample the upcoming adult content, but overall Neko Candy Shop is a below-average jigsaw puzzle game. It provides nothing that its competitors already offer — actually, its competitors offer quite a bit more content, such as animations and adjustable difficulty! I have a feeling Hot Chill will release this game for a dollar or two, but even then I'd wait for a sale before considering this game. I think Neko Candy Shop is going to be an easy, cheap win for achievement hunters (and little more).
---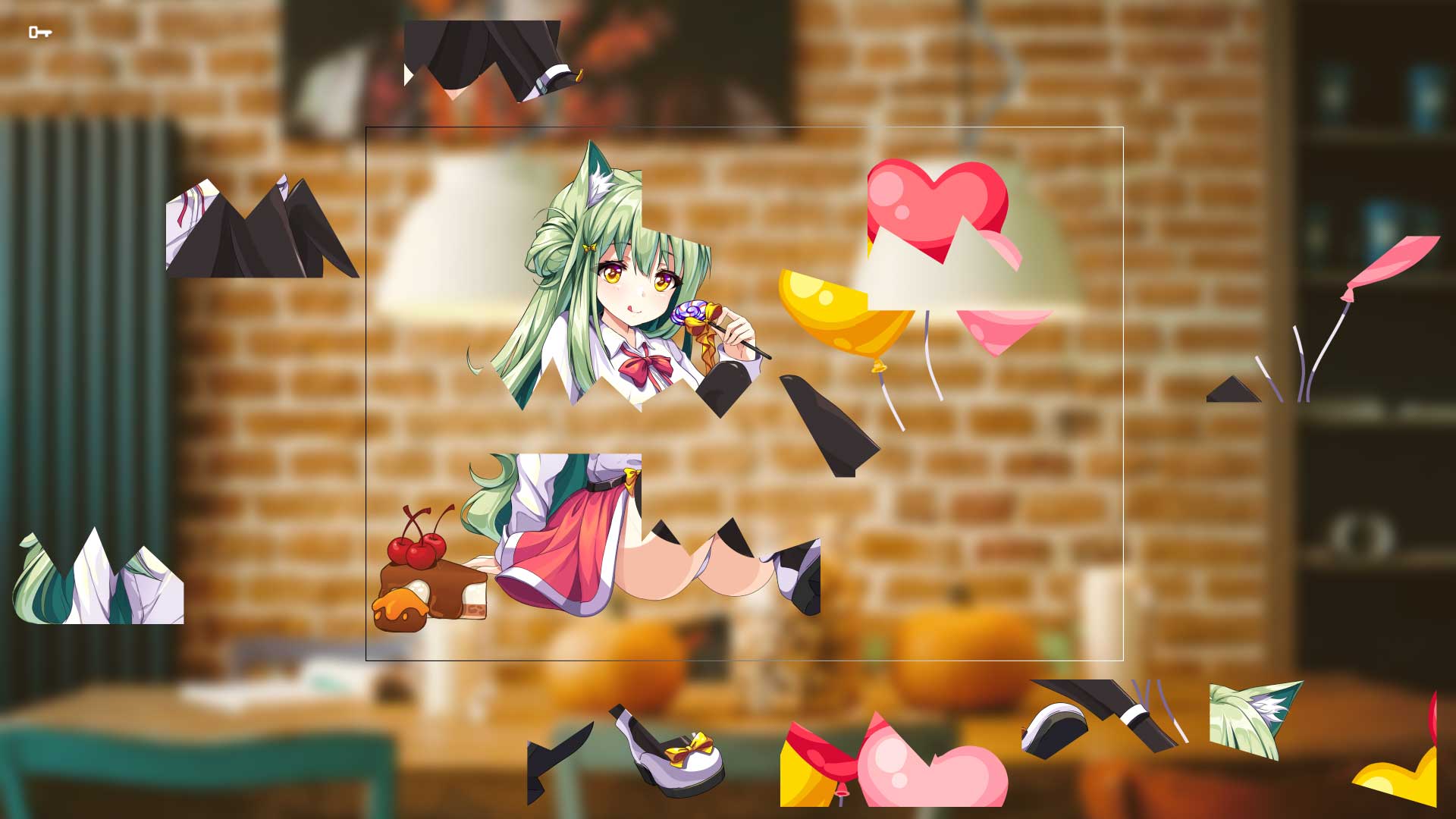 ---