---
Blowjob Simulator is a lewd, customizable blowjob animation.
Adult Content?
(FxM) sexual content.
Censorship?
No. Woot! Woot!
Hours of Gameplay?
Fifteen minutes.
Patch Available?
No, not necessary.
---
Gameplay: overview (2/5★)
---
Customize your girl and watch her suck away! You may switch between a handful of preset bodies, colors, faces, and settings. You can also switch between preset camera angles (or toggle "Free Camera"). The customization is otherwise barren. There's one looping animation, and you can't move any props. Other than the mild customization and camera control, there is no interaction.
---
---
Sexual Content: overview (3/5★)
---
There's one animation loop — it's a blowjob. Unfortunately, it's the only animation loop in the game. You may fire a cumshot at anytime, causing it to (A) leak from your character's mouth or (B) suddenly appear on her face. It's a rough feature (but I hope NSFW Sims doubles down on the uh, "cum physics"). One feature I liked was the ability to enter a sort of "manual mode", where you may use the mouse to facilitate her speed and uh, intensity. I loved the way saliva trails whenever you pull away! The models are a mixed bag. Their bodies offer painted on genitalia (what a disappointment), but the faces are stunning. They're some of the best faces I've ever seen in a game — I'm genuinely impressed by the quality of the faces! Unfortunately, there's only a thin selection of older, Asian bodies and faces to choose from. I hope to see a wider variety of animations and characters moving forward with development. NSFW Sims do you think y'all can you add some cough cough lolis cough cough?
---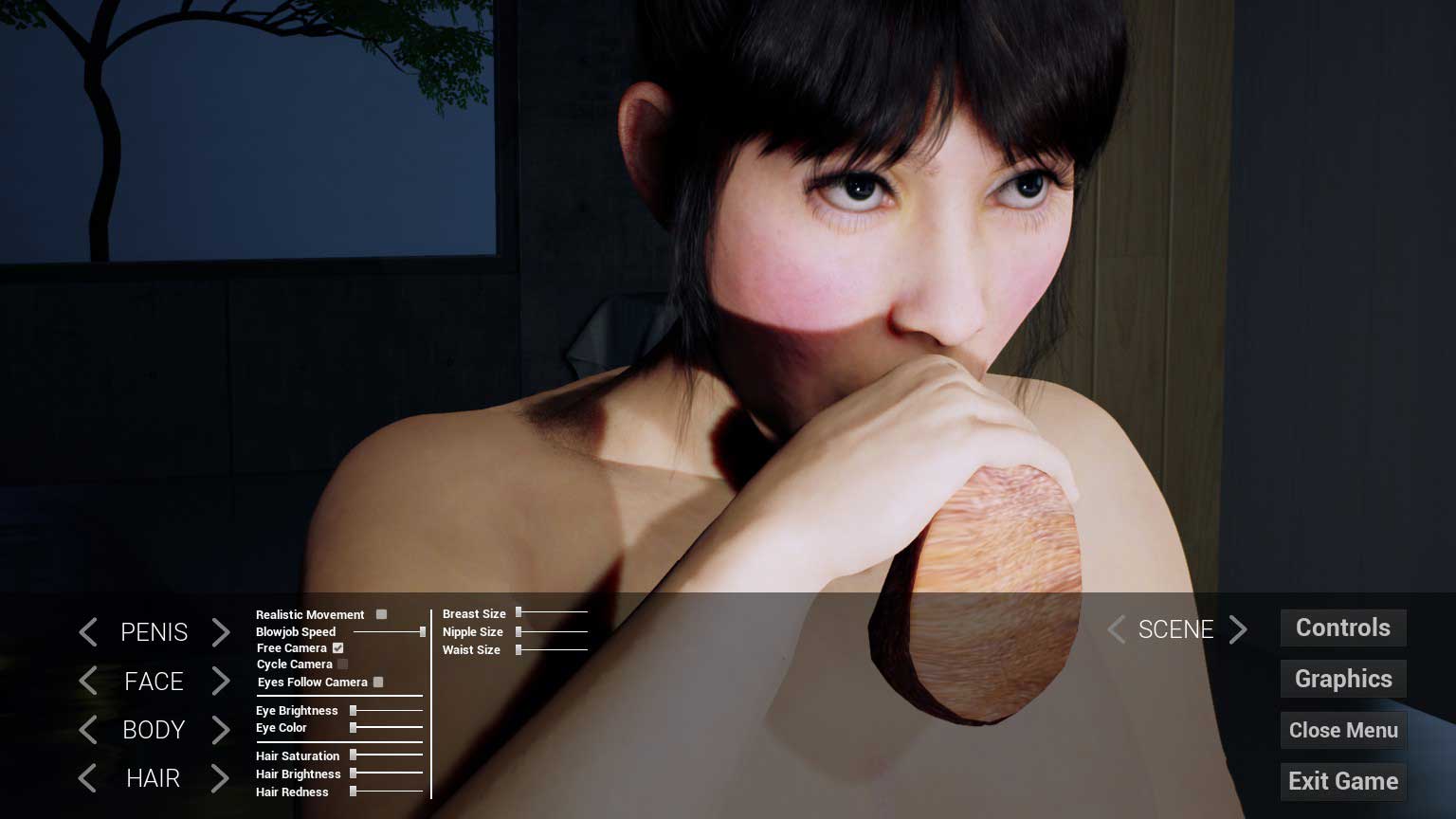 ---
---
Story: overview (1/5★)
---
There is no story (and I'm not making one up!)
---
---
Sound: overview (3/5★)
---
There's no music. That's fine by me (I don't like listening to music when I watch porn), but that I expect games to have some form of soundtrack. The sucking sounds are very sloppy — it's great. However, I heard a lot of background noise. I wish the recordings were cleaner. It wouldn't be a problem I was playing sound from my speakers (but who plays a game called Blowjob Simulator on speaker?!)
---
---
Visuals: overview (3/5★)
---
The titlescreen got me pumped! There doesn't appear to be a way to adjust audio, but graphical preferences can be toggled in-game via "Graphics". The user-interface is kind of cluttered (but it's otherwise easy to navigate). I couldn't figure out a way to hide the menus. The ability to hide the user-interface is an essential function — how'd you screw that up NSFW Sims? This game definitely needs power; "Cinematic Mode" pushed my RTX 2060 graphics card pretty hard. I suffered from less-than-stellar framerates.
---
---
Verdict: save your money kids (2/5★)
---
I'm shocked and appalled by how little content I received for twenty dollars. If this was say, a two dollar game, I wouldn't have any complaints. I got all the material I needed to write this article in four minutes — four minutes, not even enough time to qualify to post a review on Steam. That's pathetic. I played around with this game for another ten minutes, and I found a few features that a missed (confirming there might be ten minutes of "gameplay" instead of four. . . that's like, double!) You know what else appalls me about this game? The nipples and genitalia are painted on. Painted on. All of those crappy "hentai" games on Steam with mish-mashed assets offer painted on goodies. Blowjob Simulator costs anywhere between ten and twenty times the price, and the good stuff ain't even 3D. To its credit, portions of the game are graphically wonderful. The animations are hot, and so are the models. This is a great game for a good "session" (or maybe two), but as it stands it's grossly overpriced. I'd save my money and wait for updates — lots of updates.
---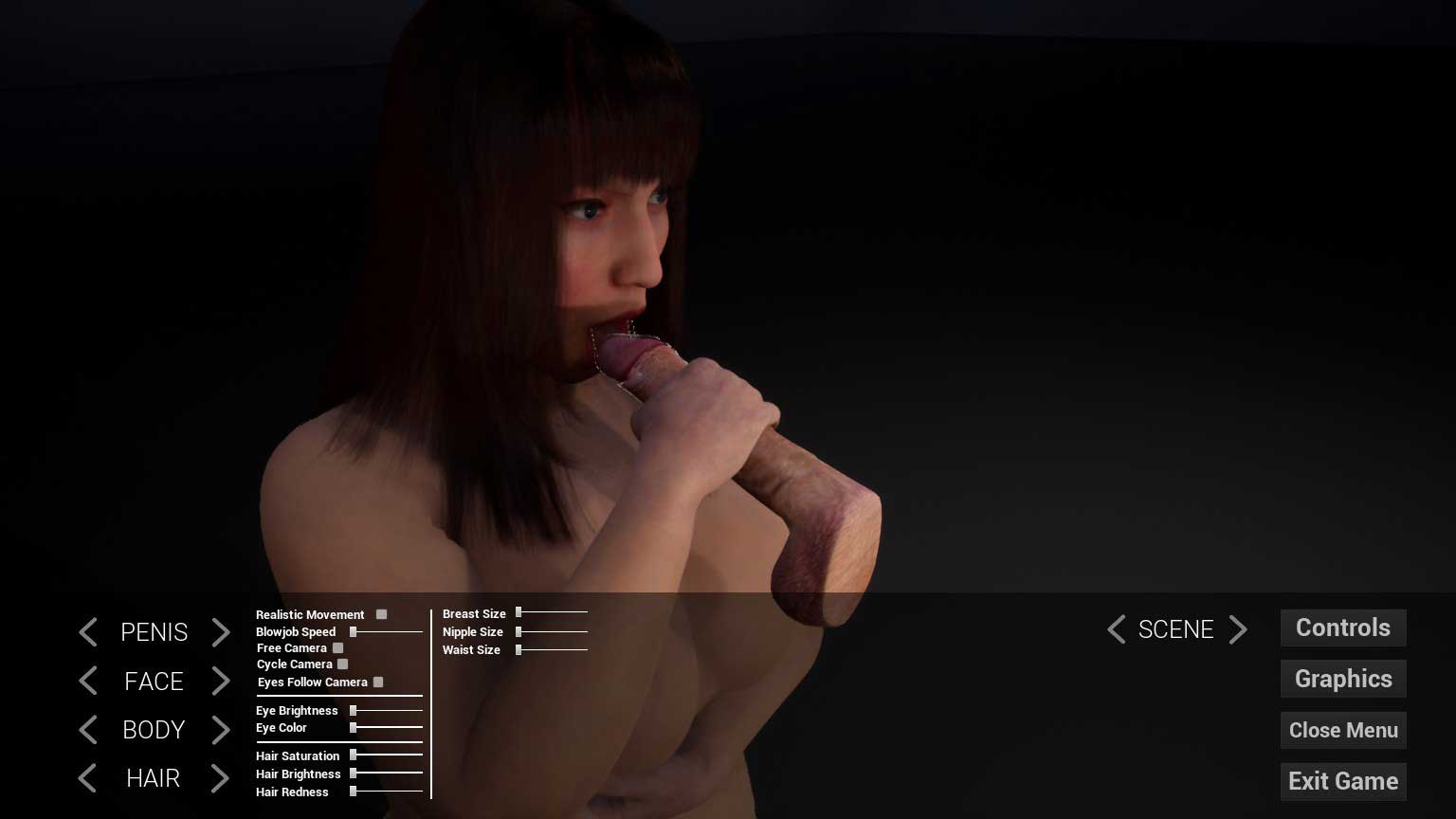 ---