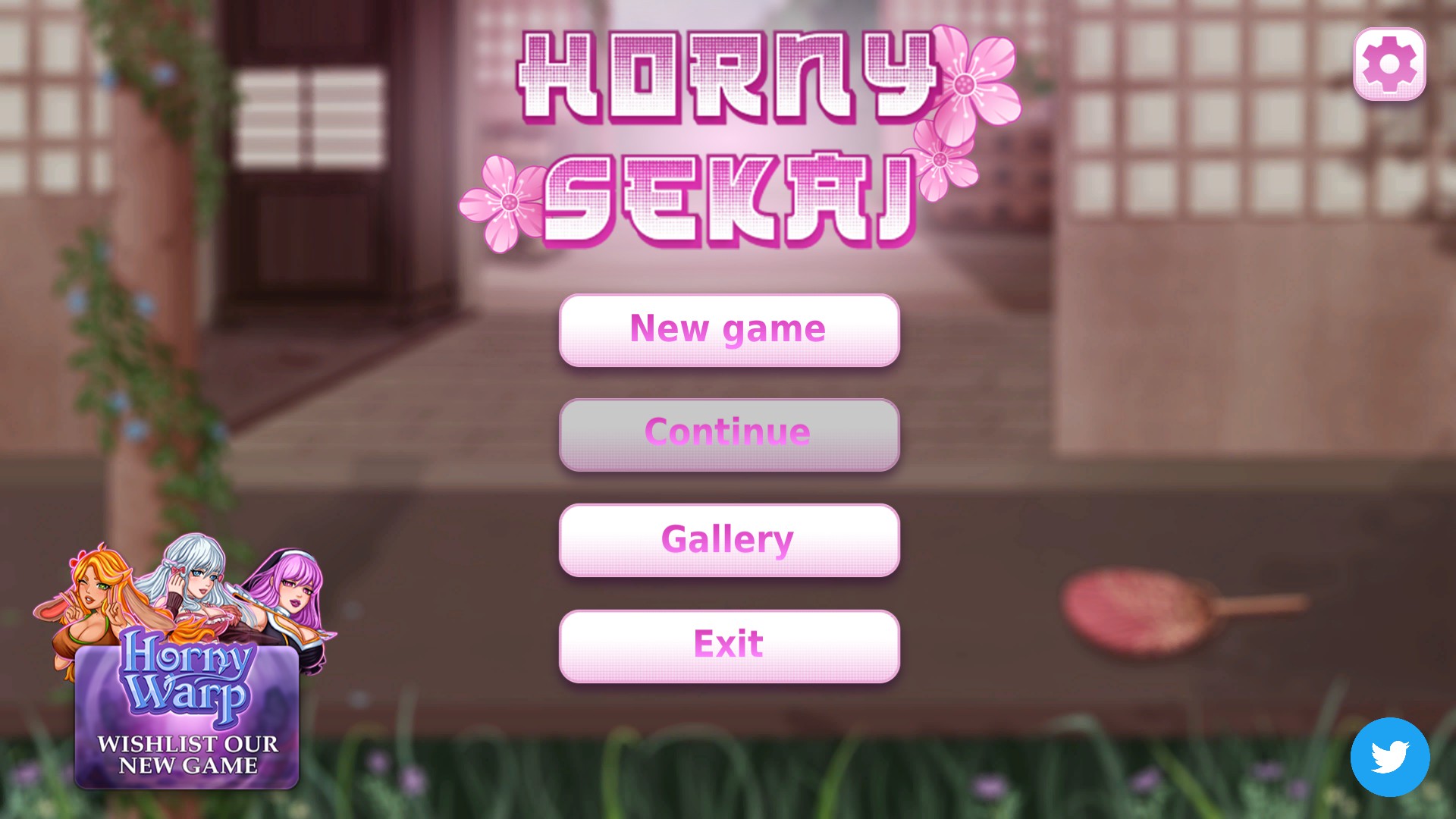 Chapter One: Introduction
I received a free copy of this game for review purposes — thanks Illuminatigames!
Horny Sekai is a lewd action game with visual novel elements available on Steam. I reckon the game would take the average player about two hours to complete. To be honest, I wasn't paying attention to my playtime. I lost interest in the game, allowing the application to remain open in the background whenever I was distracted by something else.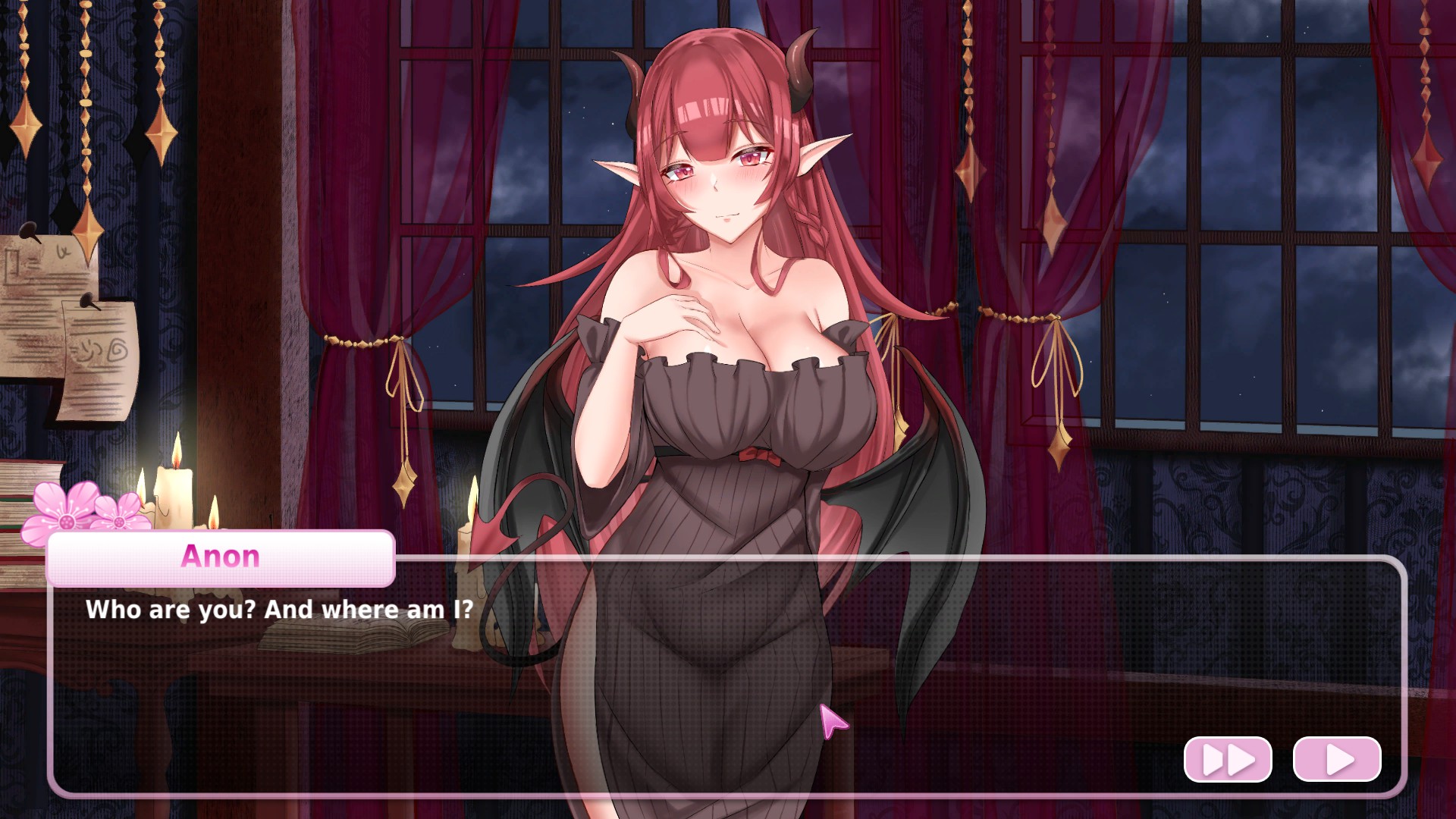 Chapter Two: Gameplay (2/5★)
Section One: Overview
To seduce the inhabitants of "this new world", you must defend them from clothes-ripping monsters to rack up the funds to bribe them into undressing (and hopefully, fucking!) Of course, they won't strip until you say the right things — but a soured mood is nothing that can't be fixed by saving their lives (again) and buying gifts (again).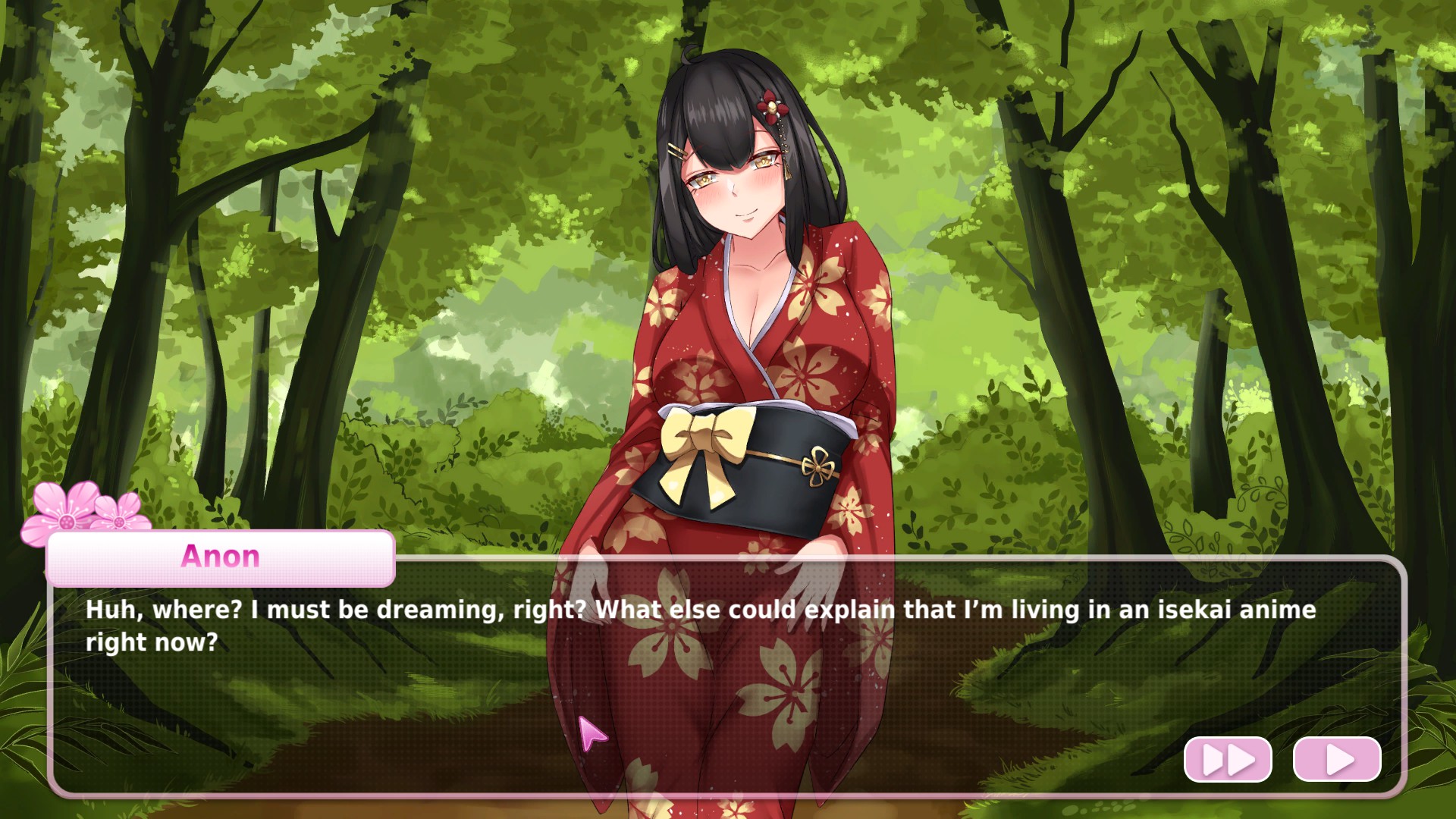 Section Two: Combat
Combat is conducted via "minigames" with toggleable difficulty. After choosing between "Easy", "Normal" or "Hard", monsters will spawn from all directions to attack the girl on-screen. To defeat them you must draw "magic symbols" with the mouse cursor, taking care to draw the correct symbols with matching elemental damage with the closest enemies.
Section Three: Progression
Completing minigames nets money, a resource for purchasing "gifts" for the "hot girls that live in this new world". Gifts are essential for unlocking new dialogue and nudity, but money can also be used to upgrade your attacks. Upgrading attacks and purchasing combos is the path to playing minigames at higher difficulty for more money faster.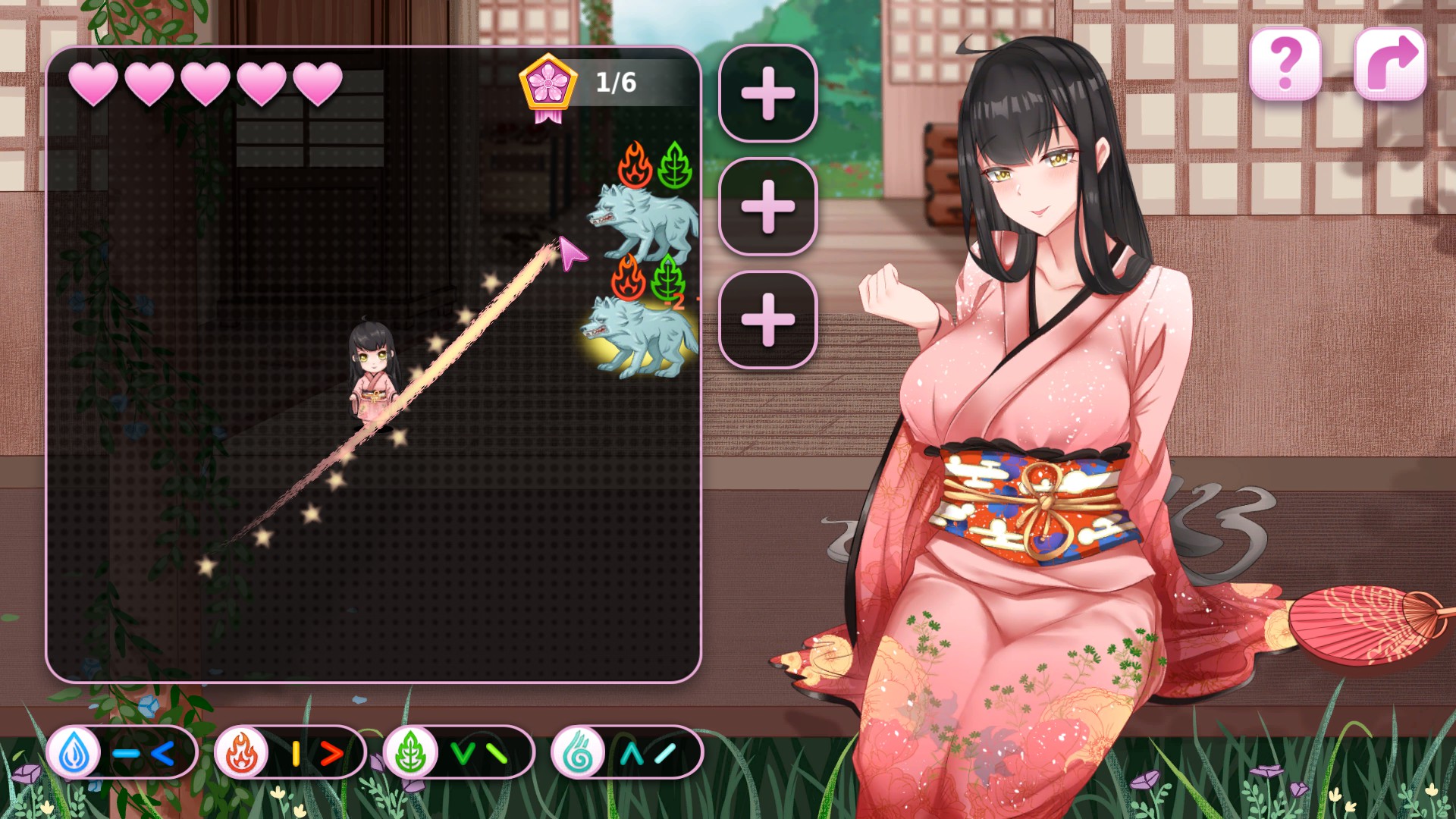 Section Three: Balance
For the most part, attacks can be "guessed" if drawn in sufficient succession. It's easy to clear waves by jerking the mouse back and forth, clearing enemies before they are even shown.
If you play the game "as intended" with deliberated attacks, combat is more interesting. . . but the novelty wore off once I realized the grind to unlock dialogue by purchasing gifts.
To note, you have to guess which gifts to purchase. If you guess wrong, your money might as well go into a trash can. Thanks to adjustable difficult settings, it's not necessary to upgrade attacks — but "Hard" mode offers more rewards than "Easy", expediting gifts and new girls.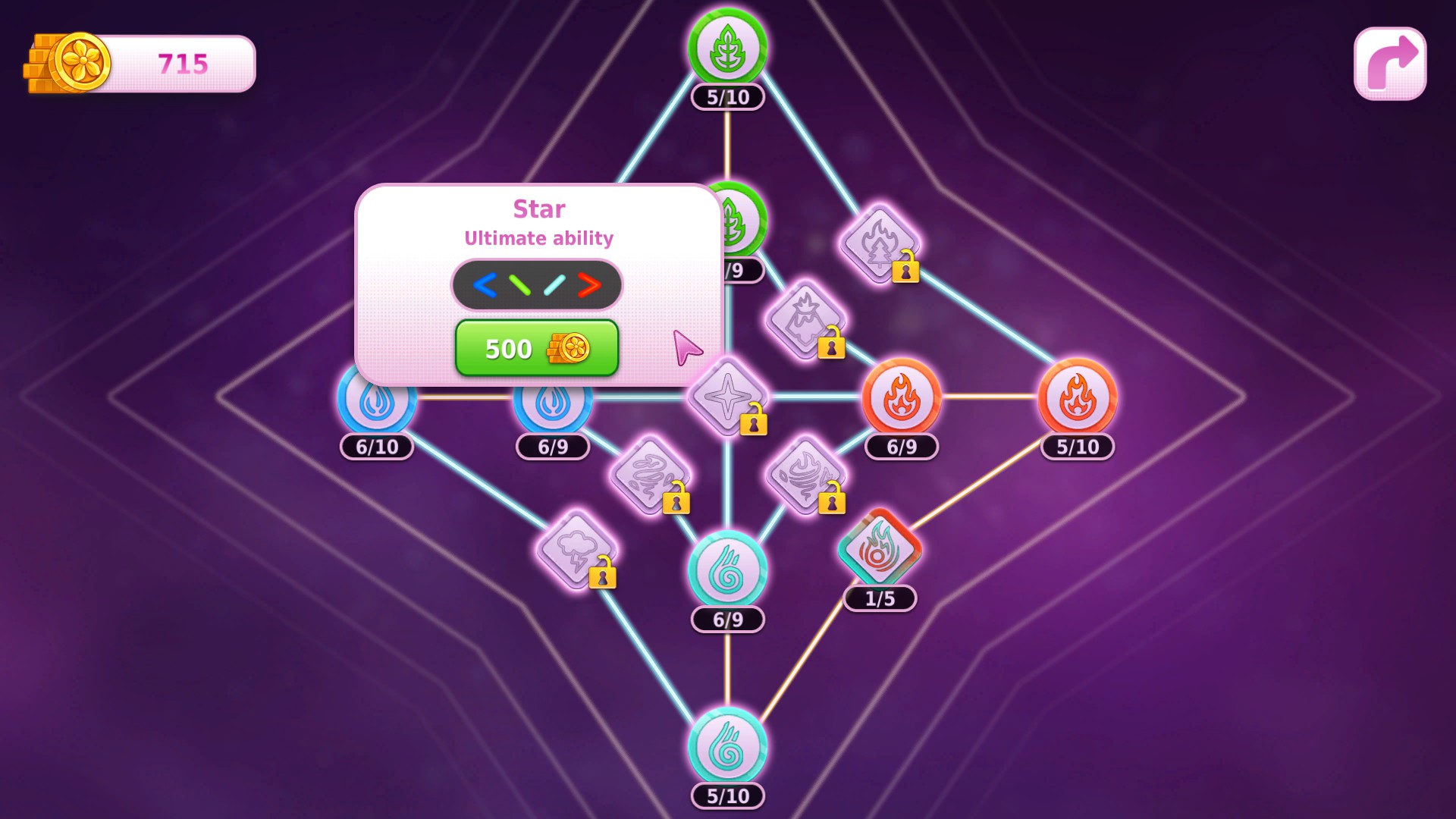 Section Four: Controls
As a dialogue-heavy game, the application controls as expected.
I spent most of my playthrough guessing attacks, but when I tried I didn't have any issues performing "combos". The only times my attacks didn't register as expected was when I wasn't paying attention. I like how attacks can be drawn anywhere; it'd be cramping to be forced into the "battlefield". If you forget what to do, each attack is outlined at the bottom of the screen.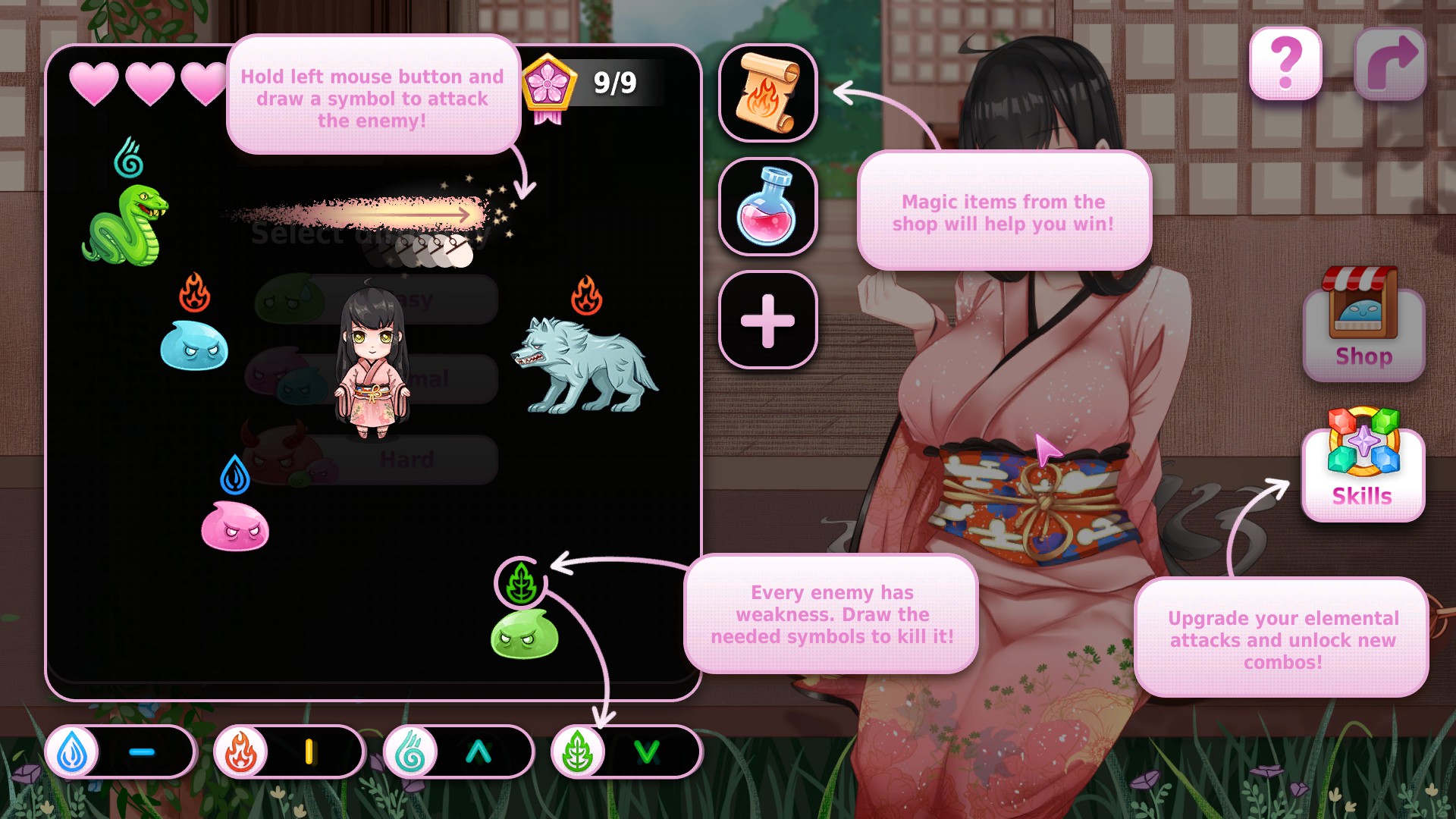 Chapter Three: Sexual Content (2/5★)
Section One: Content
There are four animated, consenting animations featuring the female protagonists and a disembodied penis.
Section Two: Implementation
Women are stripped in one of two ways; by taking damage during minigames or unlocking "affection". Affection is garnered by purchasing the correct "gifts" and choosing the correct dialogue prompts.
Once a sufficient number of gifts have been provided, a sex-scene is played instead of dialogue.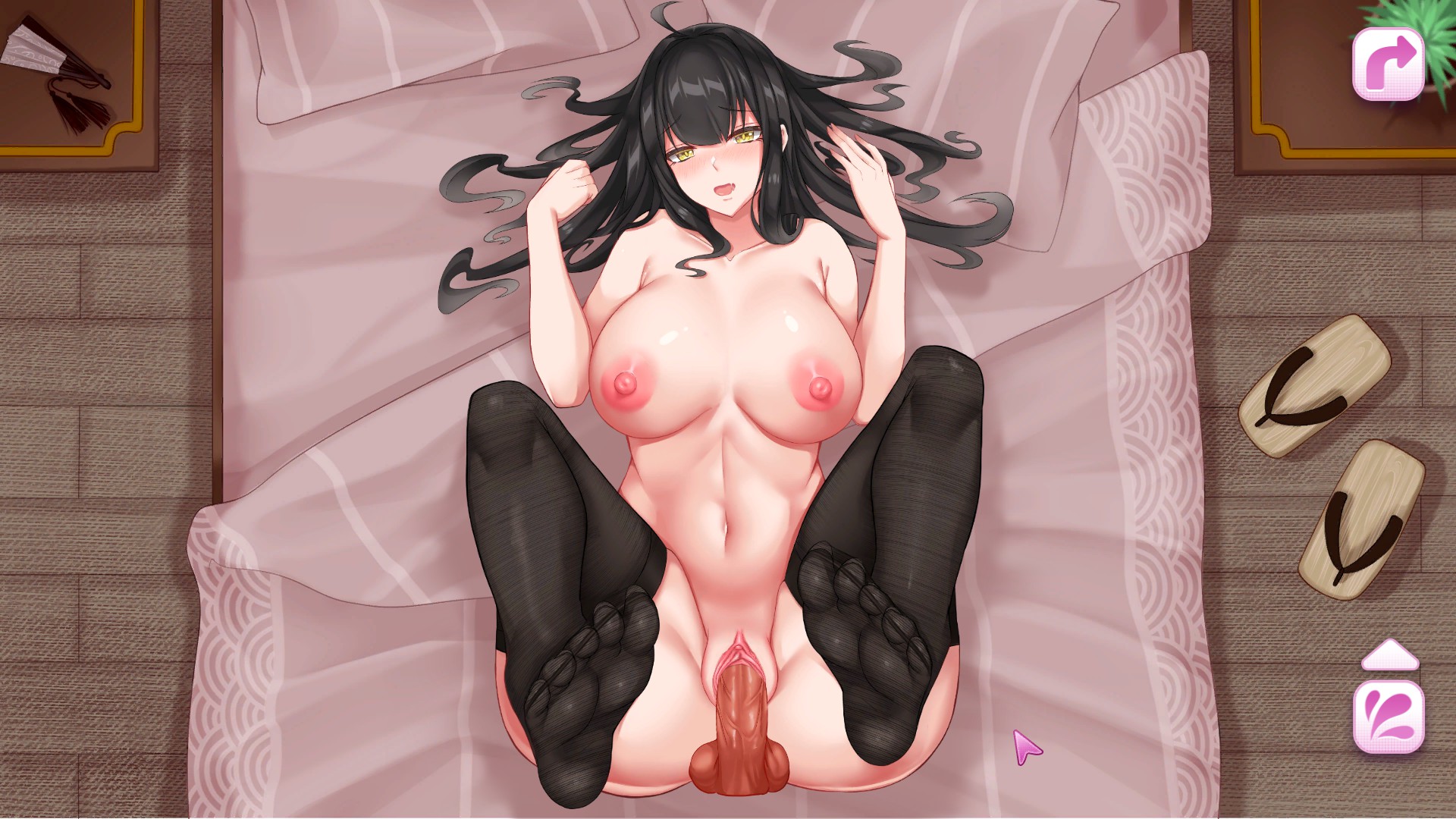 Section Three: Interactivity
The sex-scenes are hardly interactive; they are progressed by simply pressing a "next" button.
Section Four: Quality
The artwork and animation are decent, but the gallery and interactivity are severely lacking. Seeing what Horny Sekai has to offer for a few hours of your time is disappointing.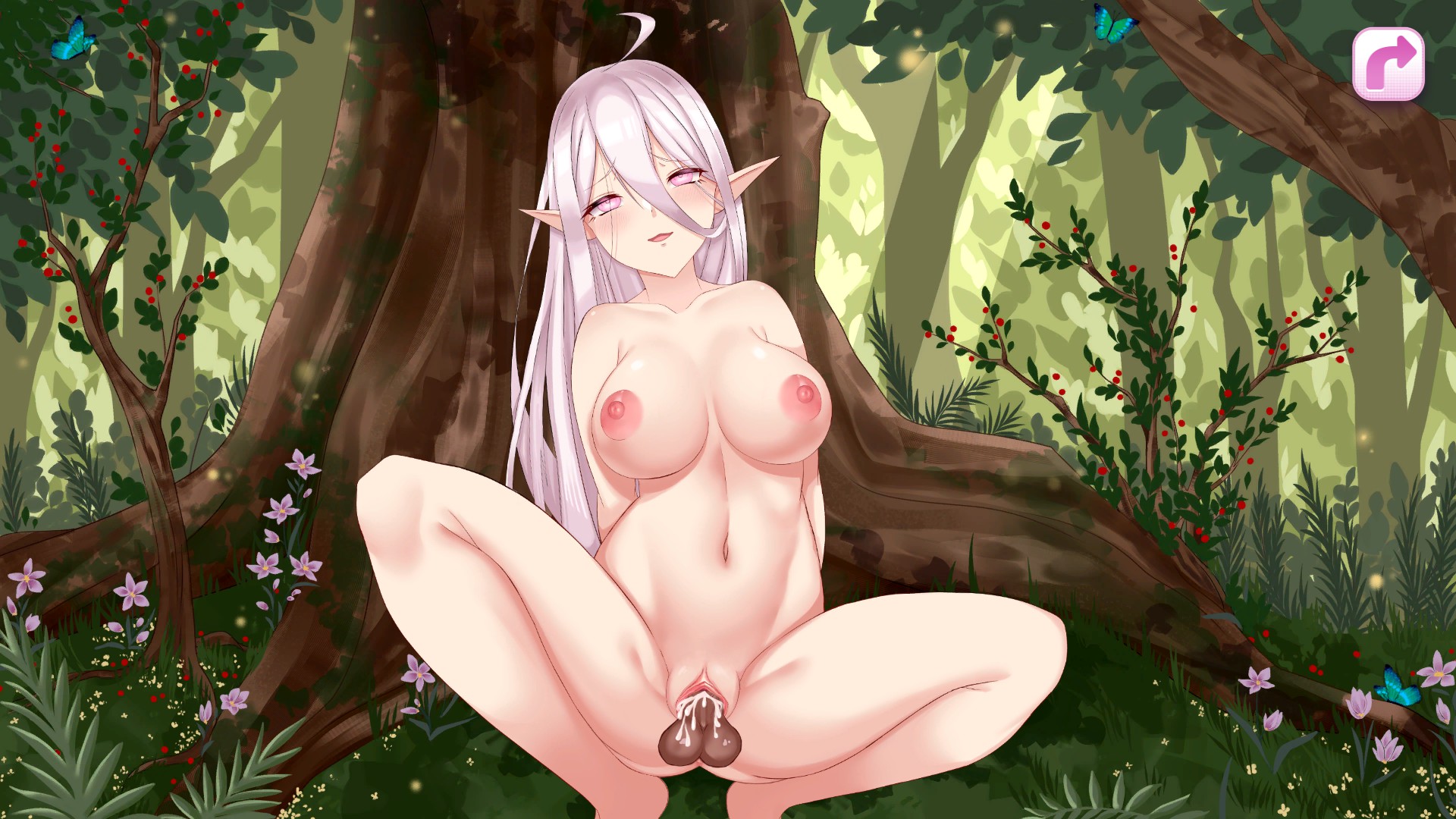 Chapter Four: Story (2/5★)
Section One: Overview
Apparently "hit by a truck", the protagonist (named "Anon" by default) awakens in a strange new world. Kamu Island, home to "the most beautiful women [he] had ever seen!"
It doesn't take a genius to figure out Anon is "living in an isekai anime right now"!
Section Two: Plot
There is no meaningful plot progression. It doesn't matter which order girls are unlocked, nor is there a conclusive ending to the game. Frankly, it's pointless to discuss "plot". The protagonist gets all the girls and never sees his home, family or friends again.
Apparently, Anon isn't the only one to mysteriously travel to Kamu — and there's even some sort of "zombie war" that going on. But these subplots, among others are pointless filler.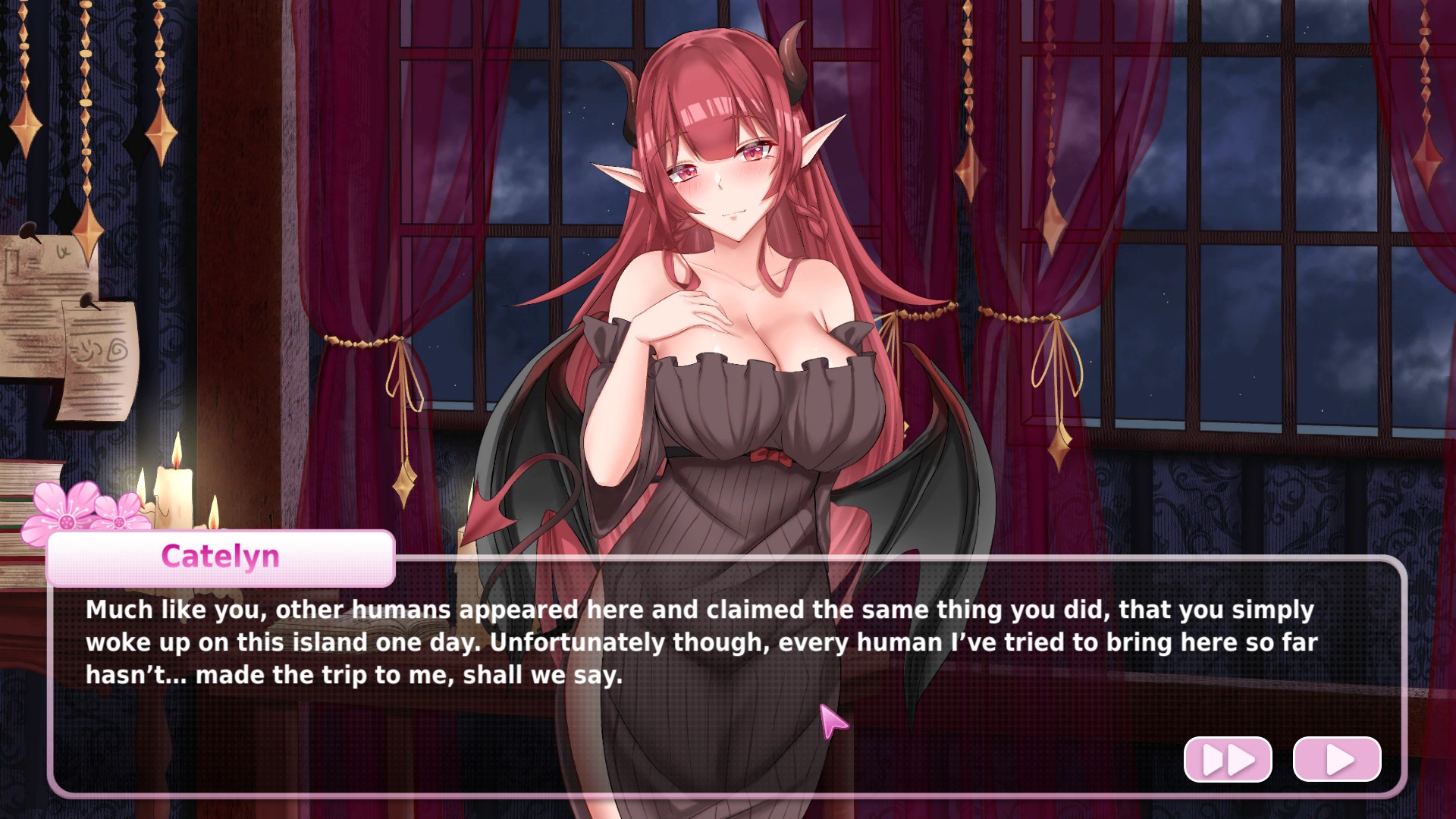 Section Three: Characters
There are four love interests in the game; Katsumi, a forest recluse in a kimoni; Masami, a cat-girl obsessed with fish and yarn; Elmyra, an elven archer; and Catelyn, a succubus researcher.
I could go into more detail, but anything more than superficial detail isn't worthwhile to note.
Section Three: Writing
I recall a few spelling errors in the game, but fortunately they're rare.
The dialogue is disinteresting, but I enjoyed the effort put into each character. When given a chance to respond to heriones, the "correct" choice is painfully obvious. I found it wasn't necessary to pay attention to personalities or interests; whatever "sounds right" is probably the right answer.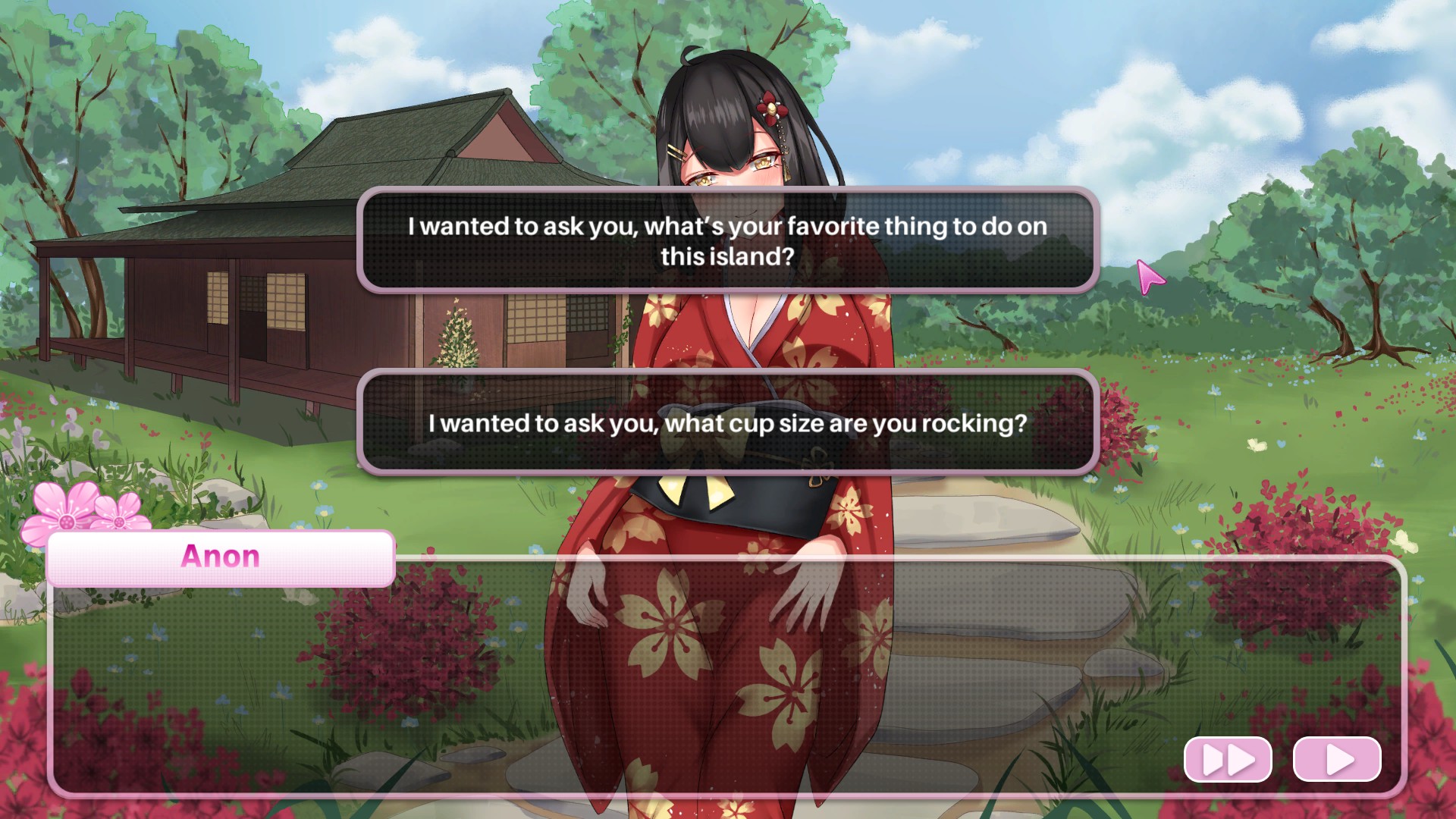 Chapter Five: Sound (3/5★)
Section One: Soundtrack
The stock fantasy tunes are alright; each girl has a single, unique track to set her apart from the rest. Combat music doesn't change, but I don't have any worthwhile complaints.
Section Two: Sound Effects
The sound effects in this application distinctly lack variety. Every button in the game shares the same playback, including upgrades. Of all functions to warrant a second sound bite, you'd think purchasing hard-earned money would be one of them.
Section Two: Voice Acting
There are no spoken words in the game, only breathing and moans.
When girls are damaged during "minigames", their responses are almost comically underwhelming. It sounds like Illuminatigames simply recycled files intended for sexual animations to cut costs.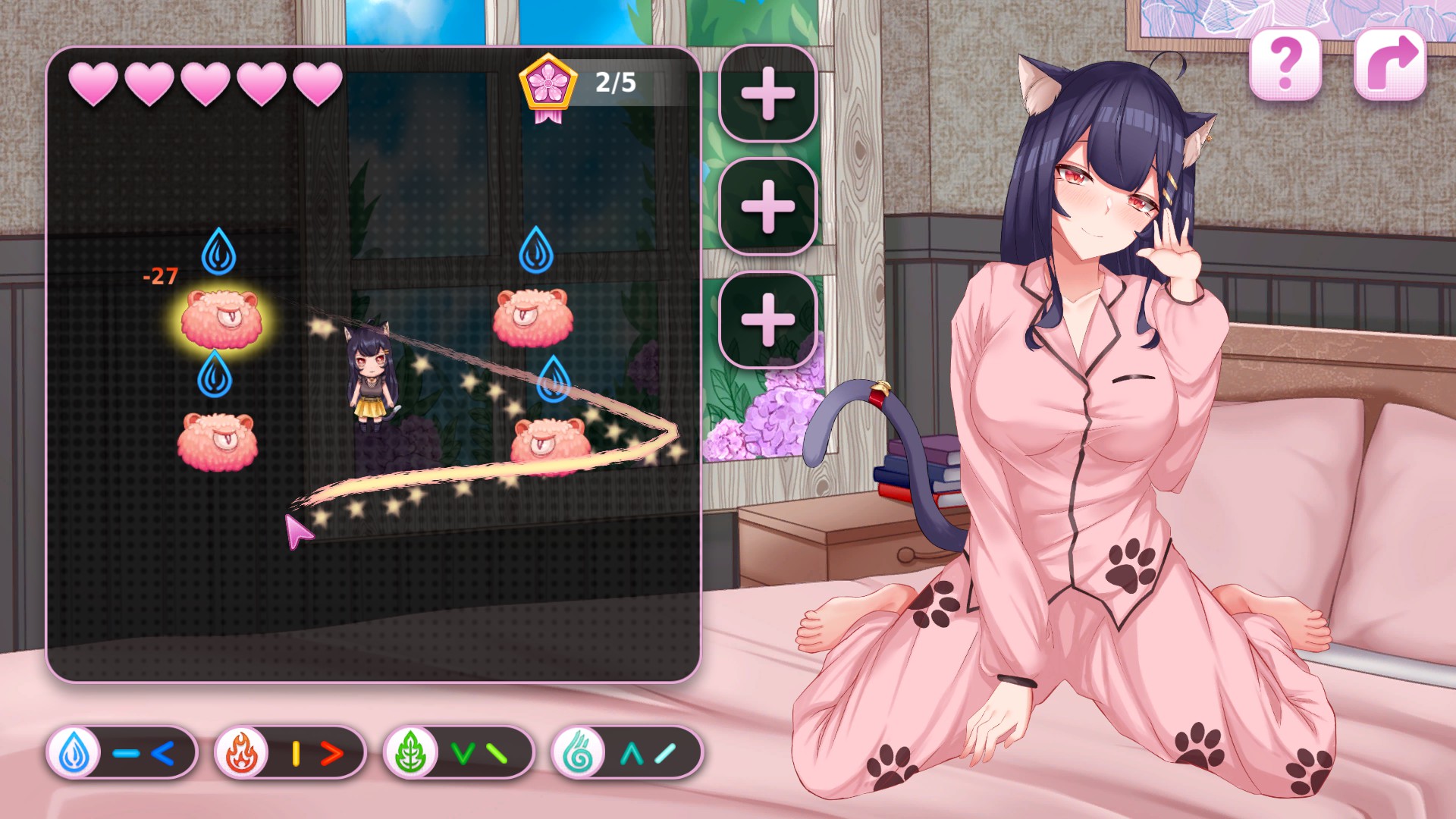 Chapter Six: Visuals (4/5★)
Section One: User-interface
Horny Sekai controls nicely with clearly labeled buttons and predictable icons.
The user-interface looks great, but it fails to convey "fantasy" or "isekai" themes. I see the same style of rose pink gradients, icons on a regular basis among cheap hentai games on Steam.
Section Two: Graphics
I enjoyed the hand-drawn backgrounds and comical enemies of Horny Sekai. The artwork could be more consistently styled, but overall the application is a pleasant experience. I enjoy how the heroines are always shown on-screen, a reminder of whatever nudity you're working towards.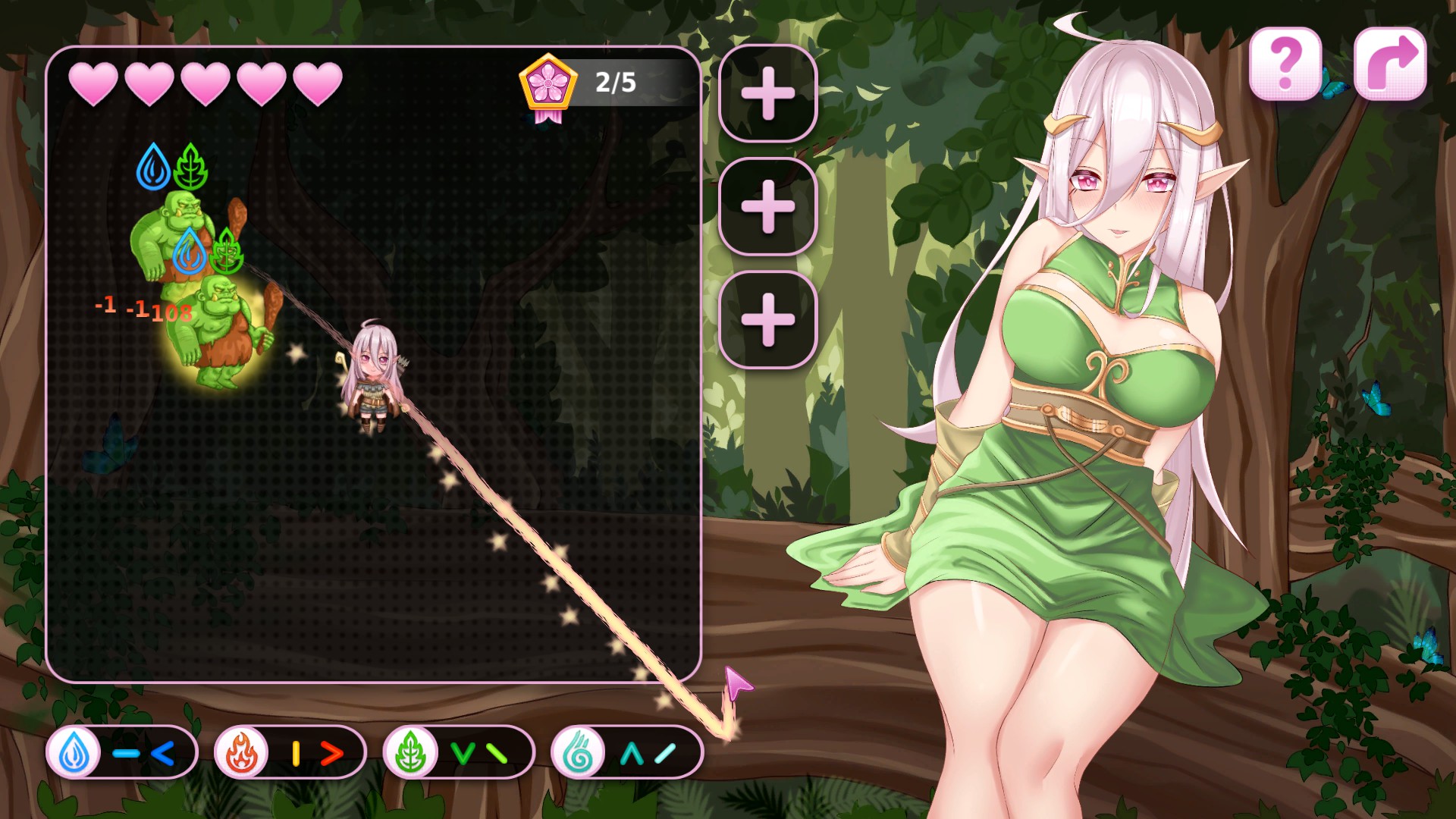 Chapter Seven: Verdict (2.5/5★)
Horny Sekai offers little adult content or meaningful gameplay. What little "gameplay" it has to offer is unvaried, providing little stimulation once the novelty wears off. The grind that precedes unlocking dialogue sucks the fun out of battle. I believe this game is only suitable for "achievement hunters" that are interested in working towards another "perfect" title to add to their Steam profile.