---
Let's Turn Pick-Up Beach to a Nudist Fucking Beach! is a lewd clicker/resource-management game about converting your local beach into a "nudist beach"!
Adult Content?
(FxM) sexual content.
Censorship?
Mosaic'd genitalia.
Hours of Gameplay?
One hour.
Patch Available?
No, not necessary.
---
Gameplay: overview (3/5★)
---
Manage male and female "arousal" as you attract (and strip and fuck) female visitors! Your main objective is maximize your "plays" through turn-based resource management. "Plays" refer to acts and behaviors, such as "toplessness", "kissing" and "sex". Each "play" has two values, "popularity" and "desire". Both are increased via rumors and "demonstrations". To enjoy the visual benefits of your plays, you'll need to maintain high "popularity" — but popularity won't budge unless there's enough desire and "female arousal". Female arousal is raised via assorted "events" and costly "drinks". However, where's there's female arousal, there's "male arousal" — the bane of your sexual existence! As male arousal increases, the likelihood of rape and molestation "incidents" will also increase. Incidents will decimate your "liveliness", reducing your income and visitations. "Sage Juices" are you best friend; they're the only way to keep men at bay! To "pick up" ladies, you'll need to increase your "Pick-up Skills". A combination of "Working Out" and "Oil Massages" will decrease the likelihood of rejection. Depending on the popularity of your "plays", your "pick-ups" can turn into "knock-ups"!
---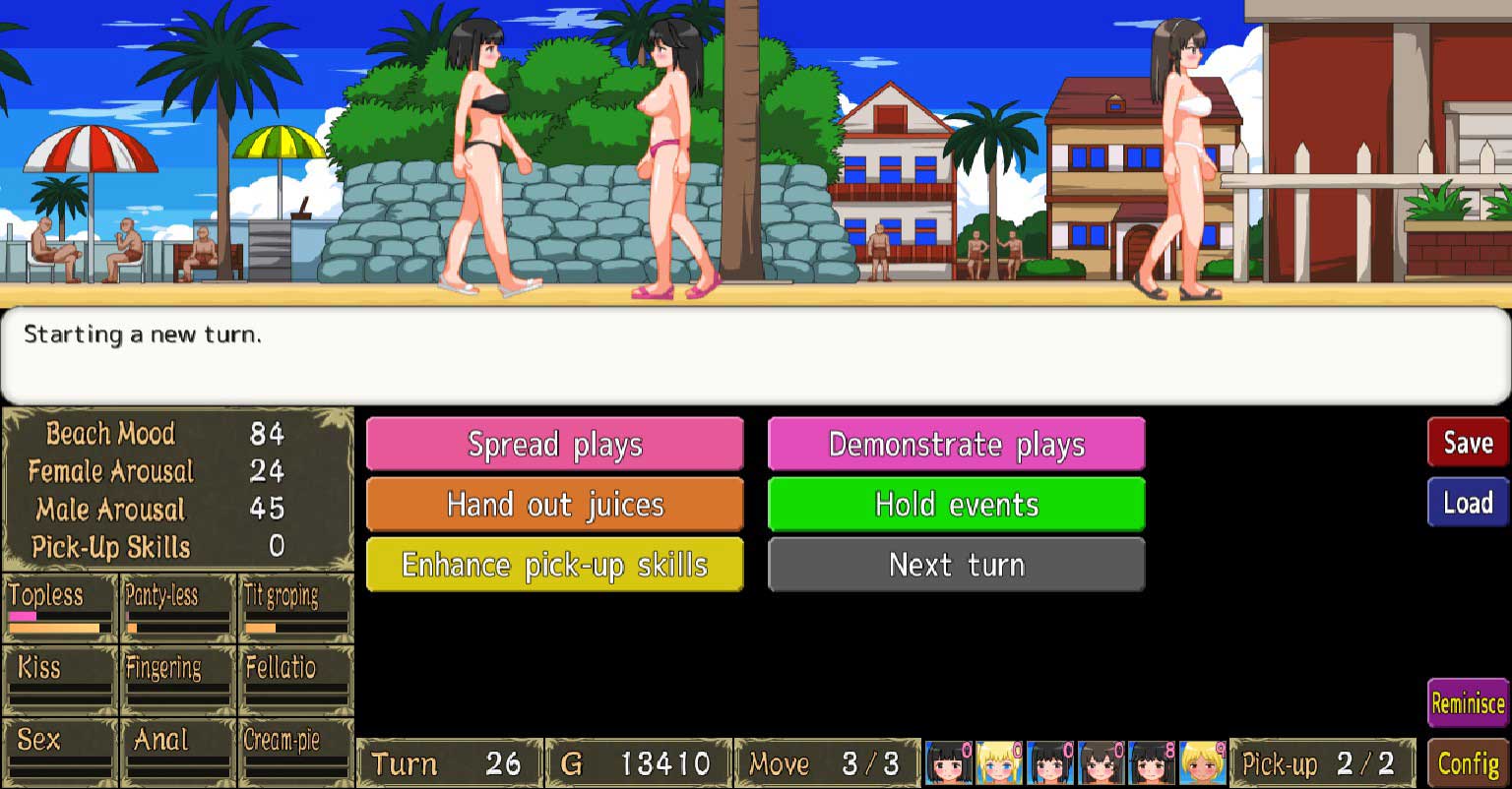 ---
---
Sexual Content: overview (3/5★)
---
There are six interactive characters in the game. Each of them has seven sexual animations with a toggleable bikini. Each character and animation is produced using a base, with changes applied to hair and skin tone. Depending on the popularity of your "plays", there's a few sexual-animations that'll play on the beach (instead of the default walk-animation). The artwork and animations are delightful! Unfortunately, genitalia are censored and the user-interface soaks up most of the screen. Everybody is voiced (but I couldn't understand a word they said). If you don't enjoy the sounds of hentai, you won't like the sound effects and voicing. Beyond cycling through animations, there is no interactivity. There may be a "cream-pie" button, but there is no "arousal" mechanics.
---
---
---
Story: overview (2/5★)
---
There is no in-game story, so I took a look at the store page;
You are the owner of "Beach House", a shop run on a pick-up beach.
Your goal is to change this pick-up beach into your dream nudist fucking beach where girls walk around topless and nude, and where anyone can do lewd things whenever they want to.
Spread rumors, ask your slutty fuck buddy to demonstrate plays, hold events, do lewd things yourself, and change the beach's mood to make your dreams come true.
Do I own the shop and the "pick-up" beach? If not, my "dream nudist fucking beach" sounds like gross "public indecency"!
---
---
Sound: overview (5/5★)
---
I was surprised not to hear any sort of music! That's fine by me, because I don't enjoy listening to music while playing games. Instead of music, the ambient sound of beach plays from start to finish. Each character has a repertoire of voiced lines. There's a few lines for each animation, decreasing the monotony of playing them in rapid succession (a necessary task to "beat" the game). If you hover over any ladies, they'll automatically speak, cancelling out whoever spoke before them — I found this "feature" to be a little jarring, but it's a minor complaint. I loved the sound each button made as I clicked about the game.
---
---
Visuals: overview (4/5★)
---
The titlescreen is a cluttered mess. KISAMAMAKI SOFT was too lazy to make a unique titlescreen, instead vouching to copy/paste the main-menu onto the gameplay interface. From "Config", you may adjust audio, display and language preferences. I couldn't figure out a way to borderless full-screen the application. "Watch beach characters" allows you to view and customize all animations that are played on the beach. However, this option is locked until you beat the game. The "reminisce" button allows you to review animations related to pick ups. Once you beat the game, all sexual animations are unlock. At no point can the user-interface be hidden.
---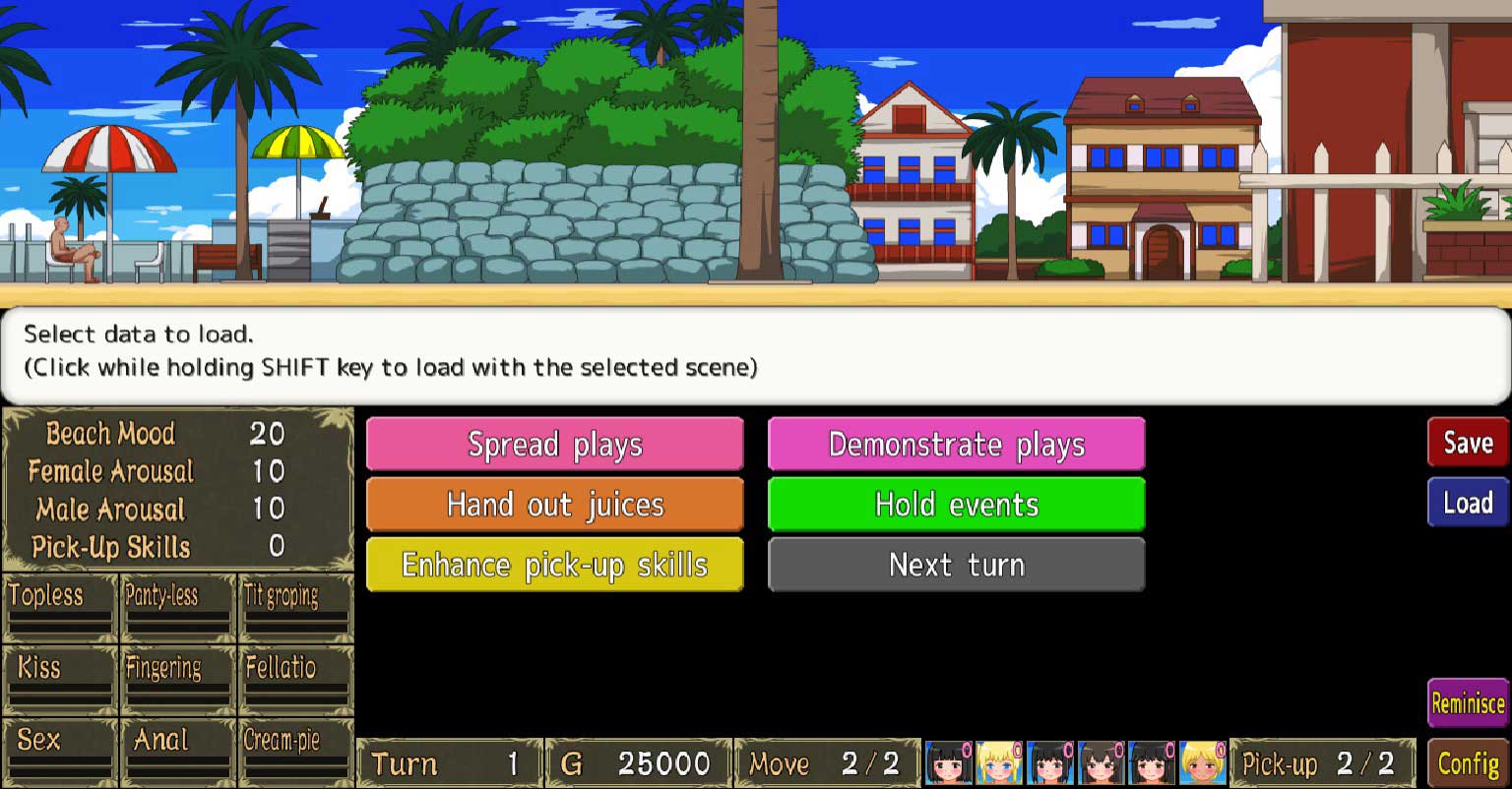 ---
---
Verdict: I like "dream nudist fucking beach" (3/5★)
---
I have mixed feelings about this game. Let's Turn Pick-Up Beach to a Nudist Fucking Beach! is a tedious game. Once you figure out how to play the game, completion is a matter of pressing the same few buttons again and again. Until you figure out how to beat the game, "male arousal" will ruin your day. Without spending the bulk of your profits into "sage juice", you'll progress will be consistently reset. Now that I know which buttons to press (and the correct order), I could probably beat this game in under thirty-minutes — that's not a quality a ten-dollar title should have. The sexual content was great; I enjoyed the voice acting and borderline rapey animations. However, the invasive user-interface and censorship killed the experience. I understand if KISAMAMAKI SOFT is based outside of America, but Steam doesn't have censorship restrictions. As an American, I expect my "nudists" free of mosaics! As long as you're okay with blurred-out genitals, this is an alright game that's worth picking up during a strong sale — maybe uh, half-off.
---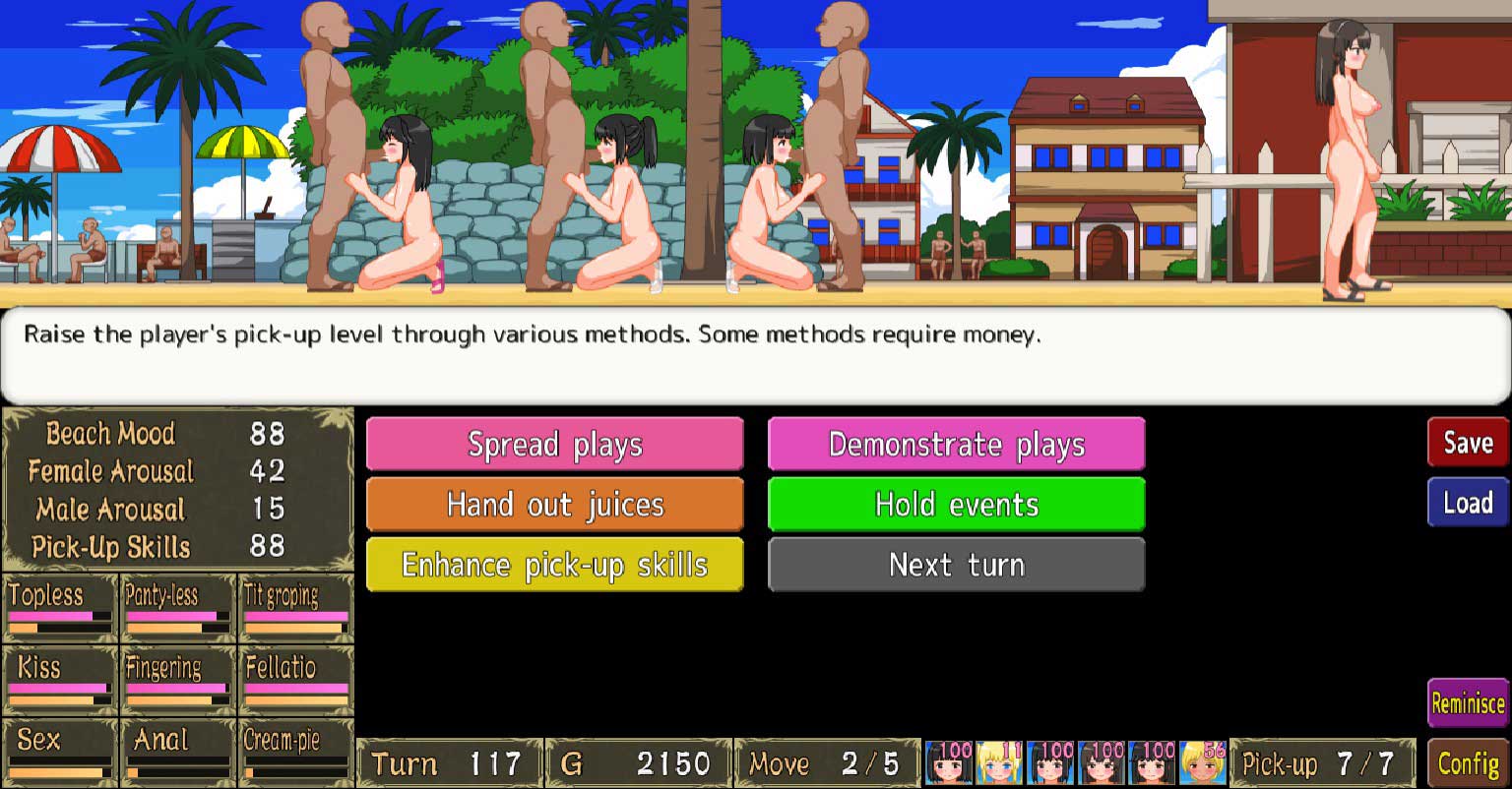 ---