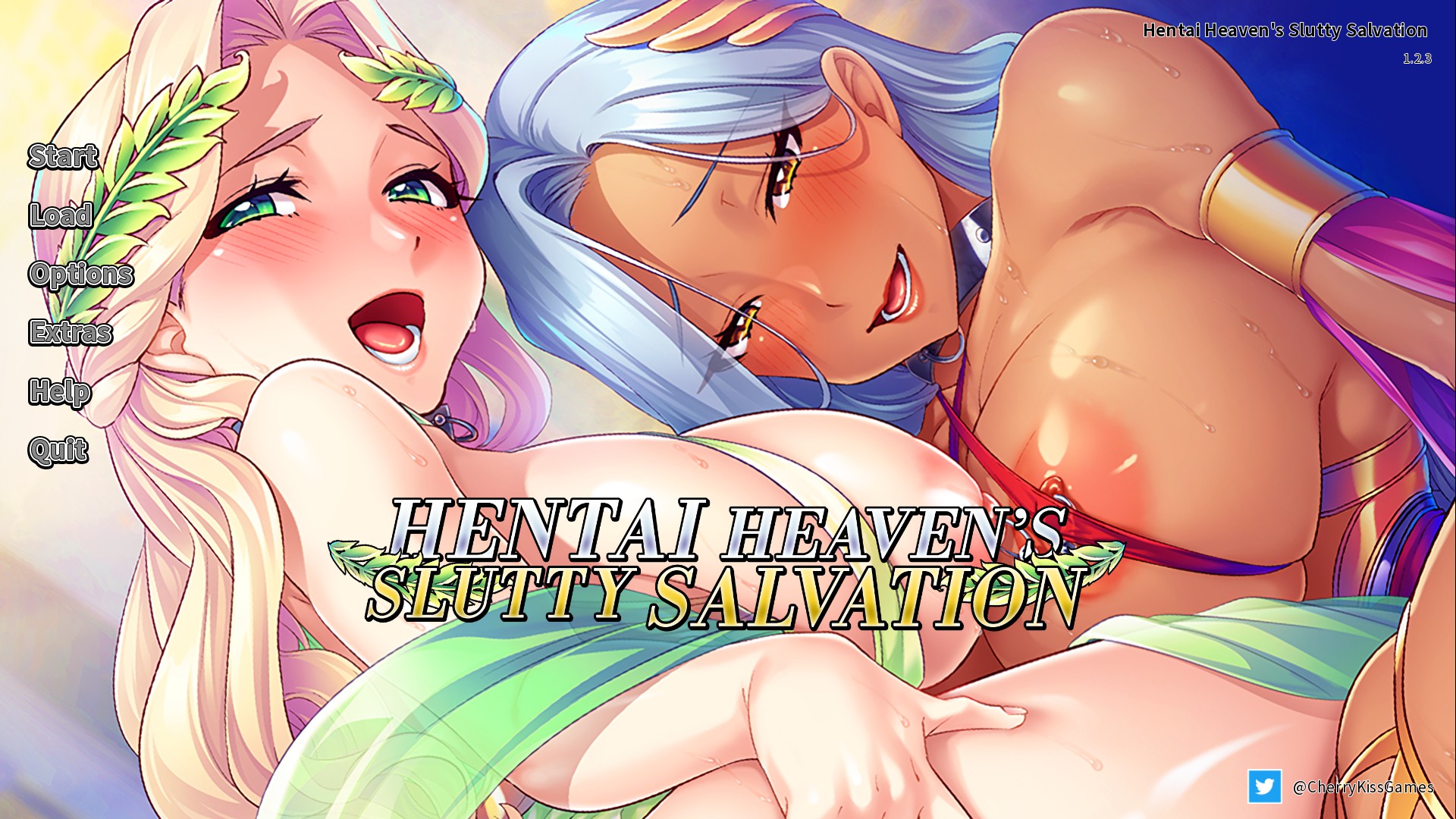 Chapter One: Introduction
Hentai Heaven's Slutty Salvation is a lewd visual novel available on Steam. I completed the game in about two hours, but admittedly I glossed over sexual content — and I'm a pretty fast reader. For most users, I think the game would take about three hours to complete.
. . . maybe four if you take your time for the "plot".
I recieved a free copy of this game for review purposes — thanks Cherry Kiss Games!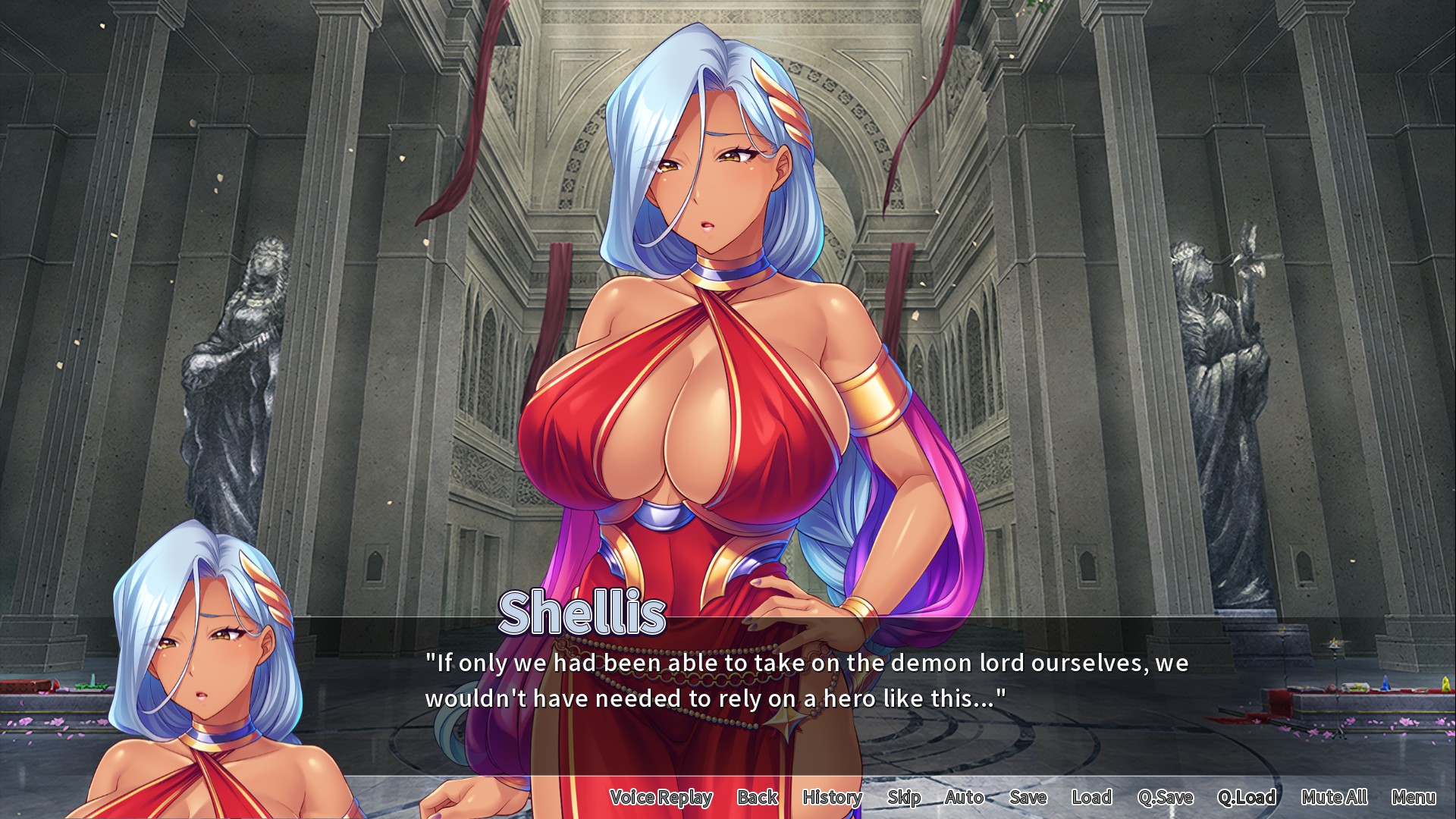 Chapter Two: Gameplay (NA/5★)
Section One: Overview
Hentai Heaven's Slutty Salvation is most comparable to an "E-book". There's nothing wrong with kinetic novels, but it's worth pointing out there is little player agency and no alternate endings.
Section Two: Controls
The application controls as expected with keyboard and/or mouse controls. The "Options" menu provides an assortment of quality of life settings, such as skip functionality and
Chapter Three: Sexual Content (4/5★)
Section One: Content
Hentai Heaven's Slutty Salvation has a few unconventional sexual practices. After climaxing, Noa pees inside the goddesses, procuring a sort of cum and piss cocktail which spills onto their bodies (or directly into their masochist goddess mouths!) In one scene, Noa feeds one of his toilets a bowl of public hair and bodily fluid — disgusting for some, but really hot for the right crowd!
If you don't want to see "Peeing Scenes", this content may be disabled via the "Options" menu, among other preferences such as "X-Ray Shots" and "Side Images".
Other than the aforementioned "watersports", the game is a mix of BDSM, domination and slavery, exhibitionism, and pet-play. Noa rapes multiple characters in the story, but only the first few rape scenes are detailed. After raping the goddesses, they are enamored by Noa's sexual advances.
At that point, it's not rape because they like it!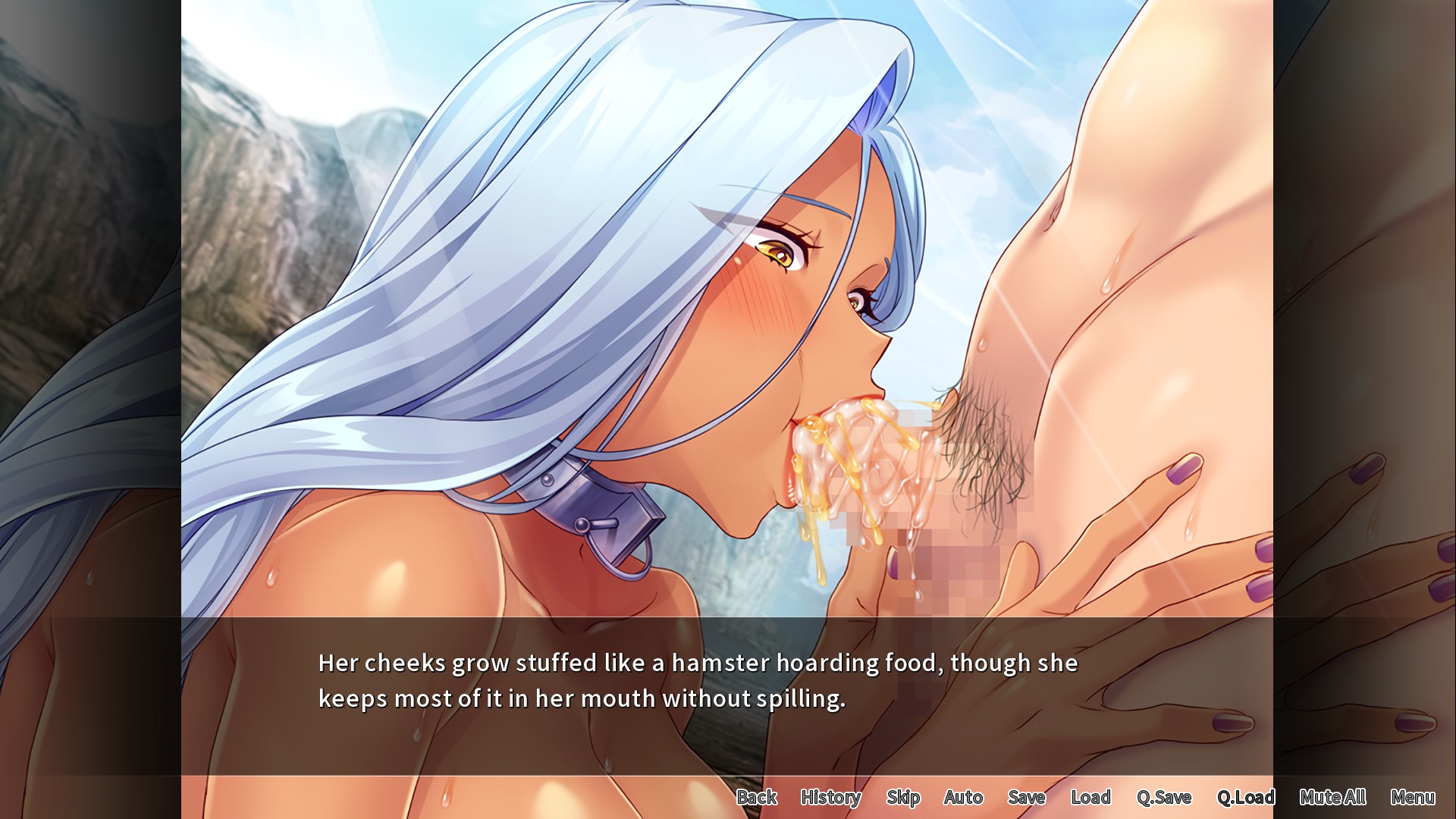 Section Two: Implementation
Sex scenes are played as the story progresses.
Section Three: Interactivity
Barring a single point in the story where Noa must choose between one of two sex-scenes, the sex-scenes provide no more interactivity than progressing dialogue.
Section Four: Quality
The artwork is incredible! I'm not a big fan of oversized breasts — but when they're drawn by the right artist, I'll admit boobs can be pretty hot (coming from someone that prefers flat chests)! The facial expressions of the goddesses are something to see, and climaxes are satisfactory.
But the dialogue and sound effects, not so much. Both of them failed to maintain my suspension of belief, but if you like women without character you may enjoy the mindless dialogue.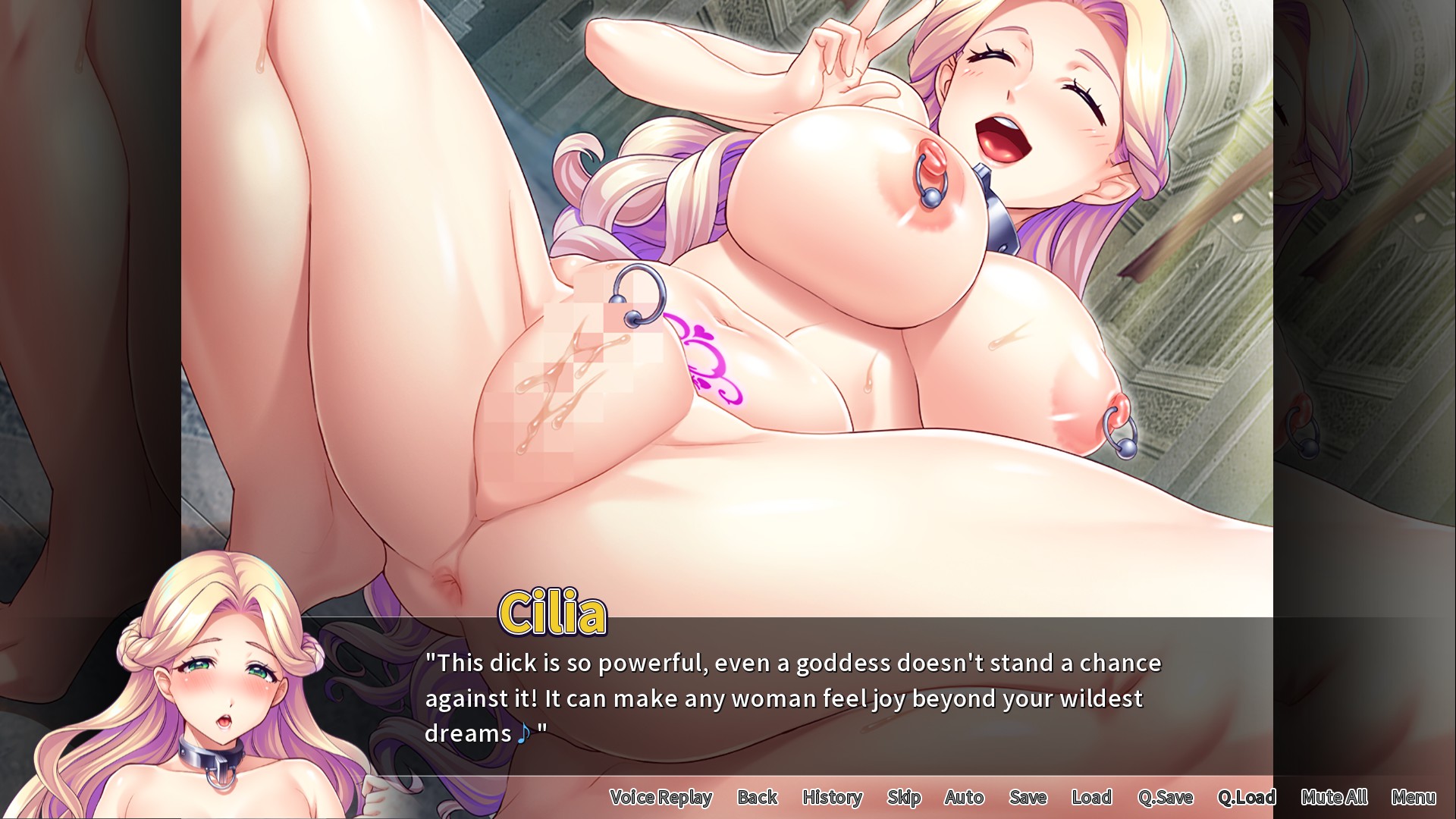 Chapter Four: Story (2/5★)
Section One: Plot
After saving a fantasy world from "a terrifying demon lord", Noa is betrayed by a king and his accomplices, the goddesses Cilia and Shellis. Reciting numerous "crimes the hero has committed", he convinces the goddesses to seal Noa away.
. . . whatever that means.
During his imprisonment (but before he is sealed), he learns "the king fabricated this stuff in order to get out of paying his debt" for "taking down the demon lord".
On "The day [he's] set to be sealed away, Cilia comes to visit". Before Noa is "sealed away forever for something [he] didn't do", he has one "one wish".
Well, less of a wish and more of a demand; he rapes Cilia, "the best choice [he] ever made!" To his surprise, "His hot semen" makes "[her] womb fall in love with him right away"! — so much so, she gives up her "throne as a goddess" to become Noa's pet.
Suspecting Noa has "somehow taken over the demon lord's power", Shellis tries to smite him. But with his very own goddess by his side, Noa can't be harmed by her attacks. Scheming to gain another pet, he offers to release Cilia if she can "endure" a sexual session.
Of course, she too becomes willing to "do anything for [him] and [his] dick forever!"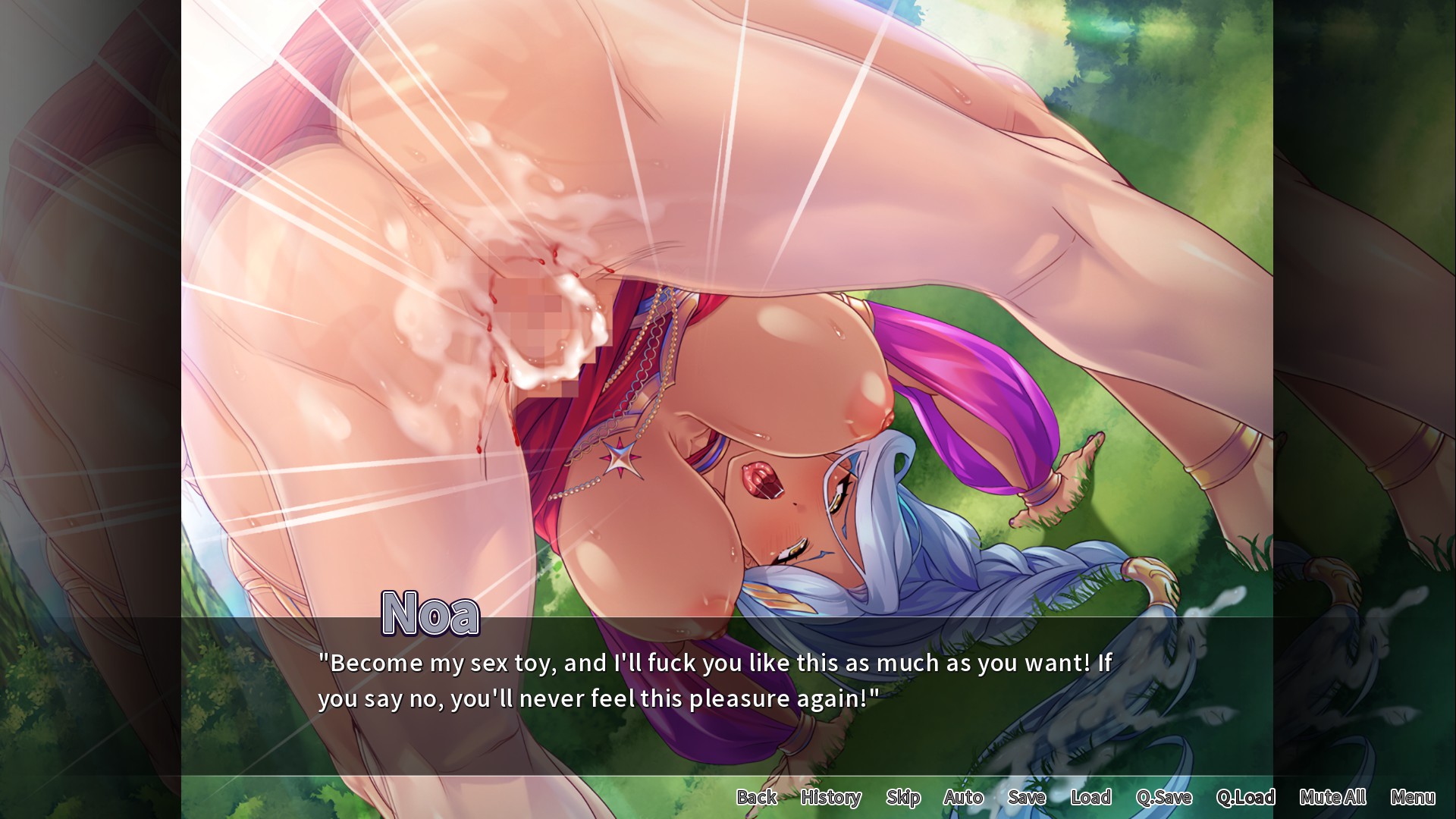 With two goddesses by his side, Noa sets off to get revenge on that "asshole king"!
By Chapter 8 I could tell Hentai Heaven's Slutty Salvation is definitely an isekai. Noa was "summoned" from a modern world to serve as the "hero" of the story. Apparently, "The demon lord's castle was clouded in a special dark magic that completely warded off the goddesses." Therefore, "they needed someone like [Noa], who could get into his castle unharmed."
Which begs the question, why didn't the goddess provide someone from their world with "overpowered abilities and weapons" to defeat the demon lord?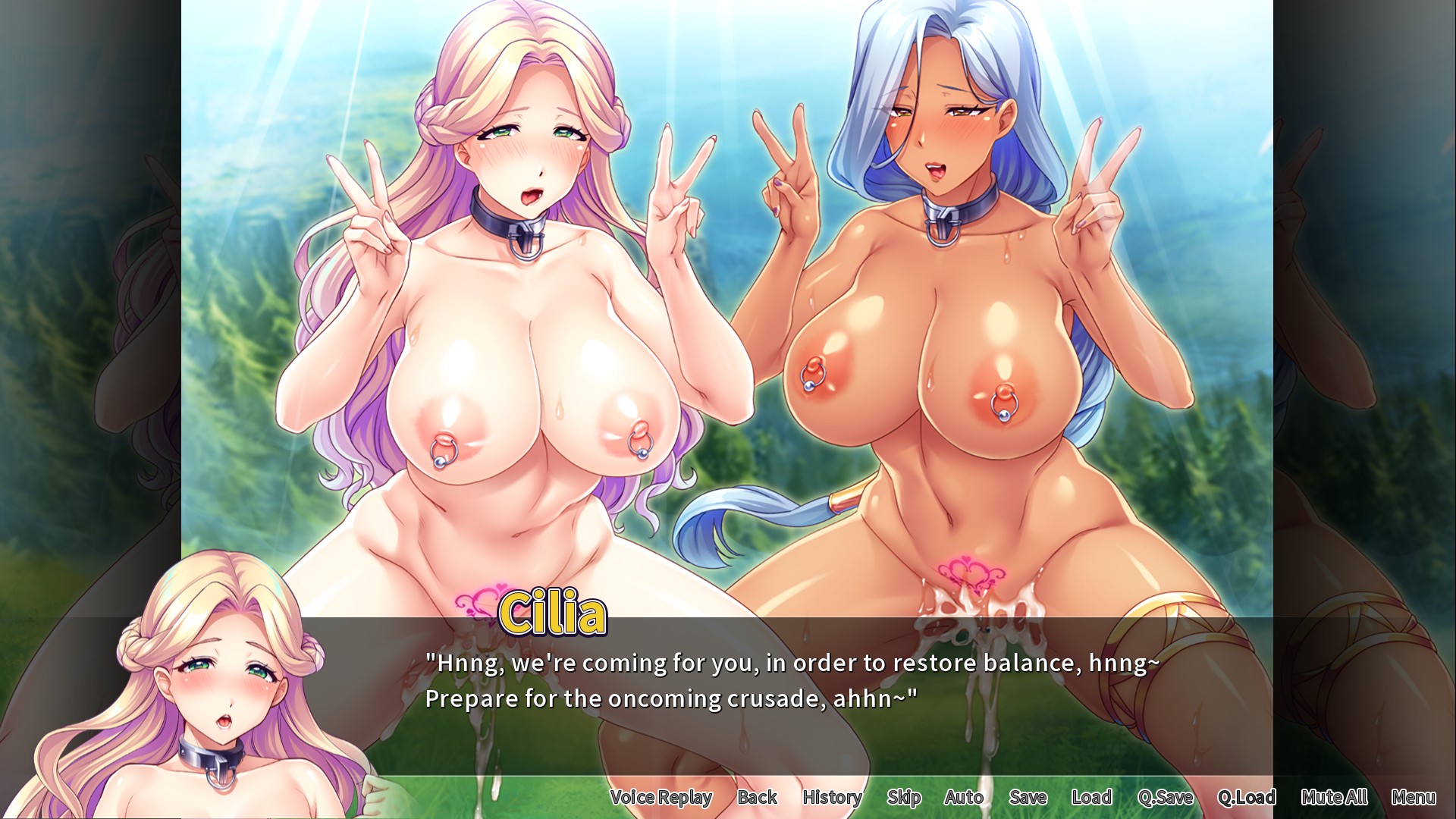 Section Two: Pacing
The pacing is awful. Spending no more than a few minutes to introduce the goddesses, there isn't much time to develop a connection with them. There's no sense of satisfaction in "brainwashing" the female leads.
Without any lead-up to the king's betrayal, what should be a shocking reveal lacks impact.
Fights read like a shitty fanfiction — no detail, no stakes. The protagonists win as soon as they are introduced. I understand the game is meant to be power fantasy, but I want to at least read power fantasy — not a series of lazy fucking time skips. If the writers can't be bothered to write fight scenes, there shouldn't be any fights in the story.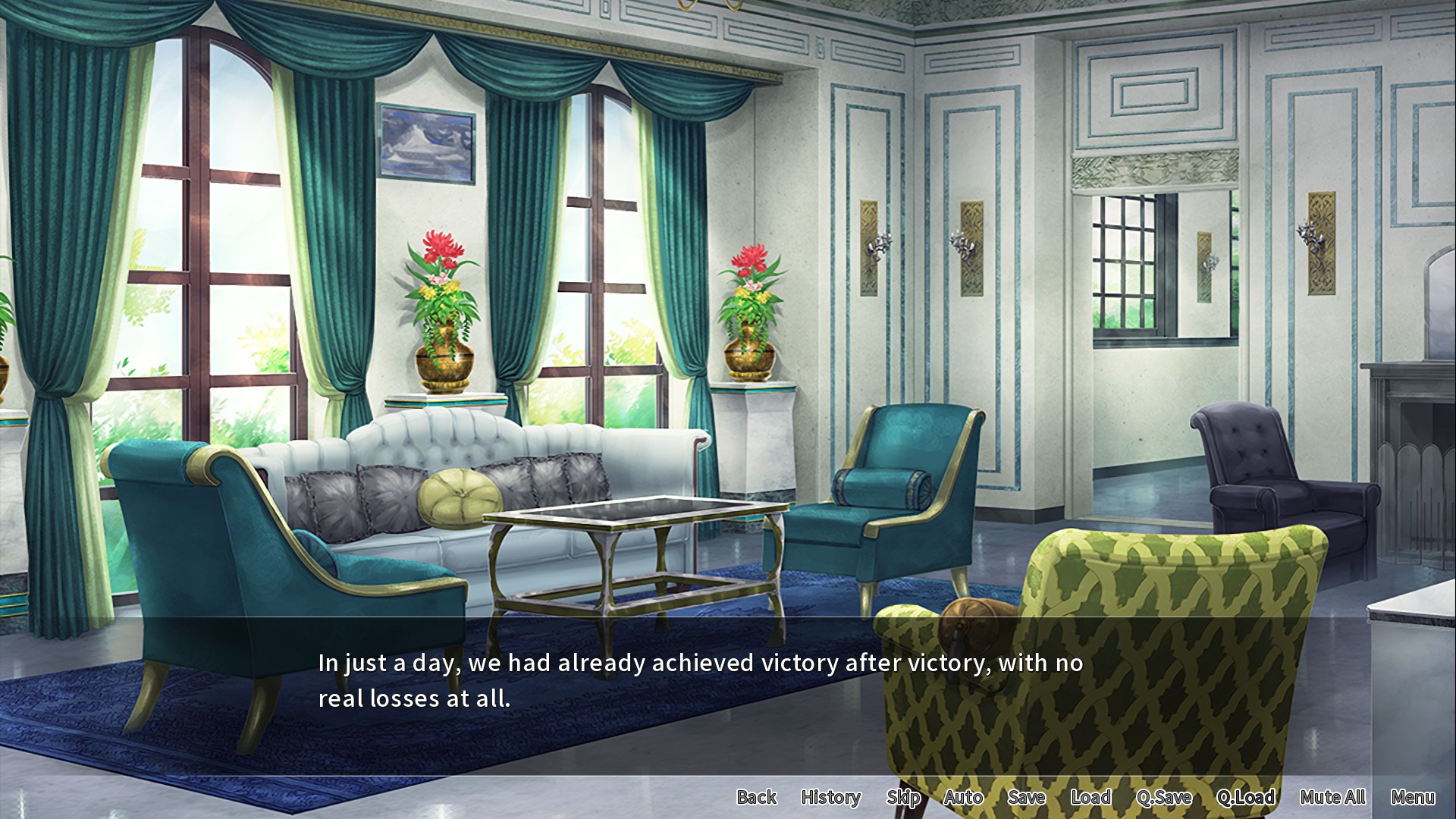 Section Three: Characters
Noa is the player character, an unlikable "hero" that acts more like a villain. But he's not in the story to be an interesting character, he's simply a faceless vehicle to deliver sexual content. I think a "faceless vehicle" is better suited for a visual novel with more player agency.
There isn't much to say about Cilia and Shellis either.
The goddesses lose their fight real quick — maybe a few minutes into the story, they go from being reasonable characters to braindead, sex-starved "masochist goddesses". Any semblance of personality is stripped from them once Noa. . . strips them and steals their virginities.
Then there's the "demon lord" that might as well not exist.
Despite being the reason for Noa's existence, the demon lord is never shown or somehow revived. I thought there'd be a plot twist later in the story. Like "maybe the king is the demon lord" — or maybe "Noa inherits the demon lord's powers but he decides to be the good guy in this world".
Kind of like Kagura Games' The Triumphant Return of Diabolos.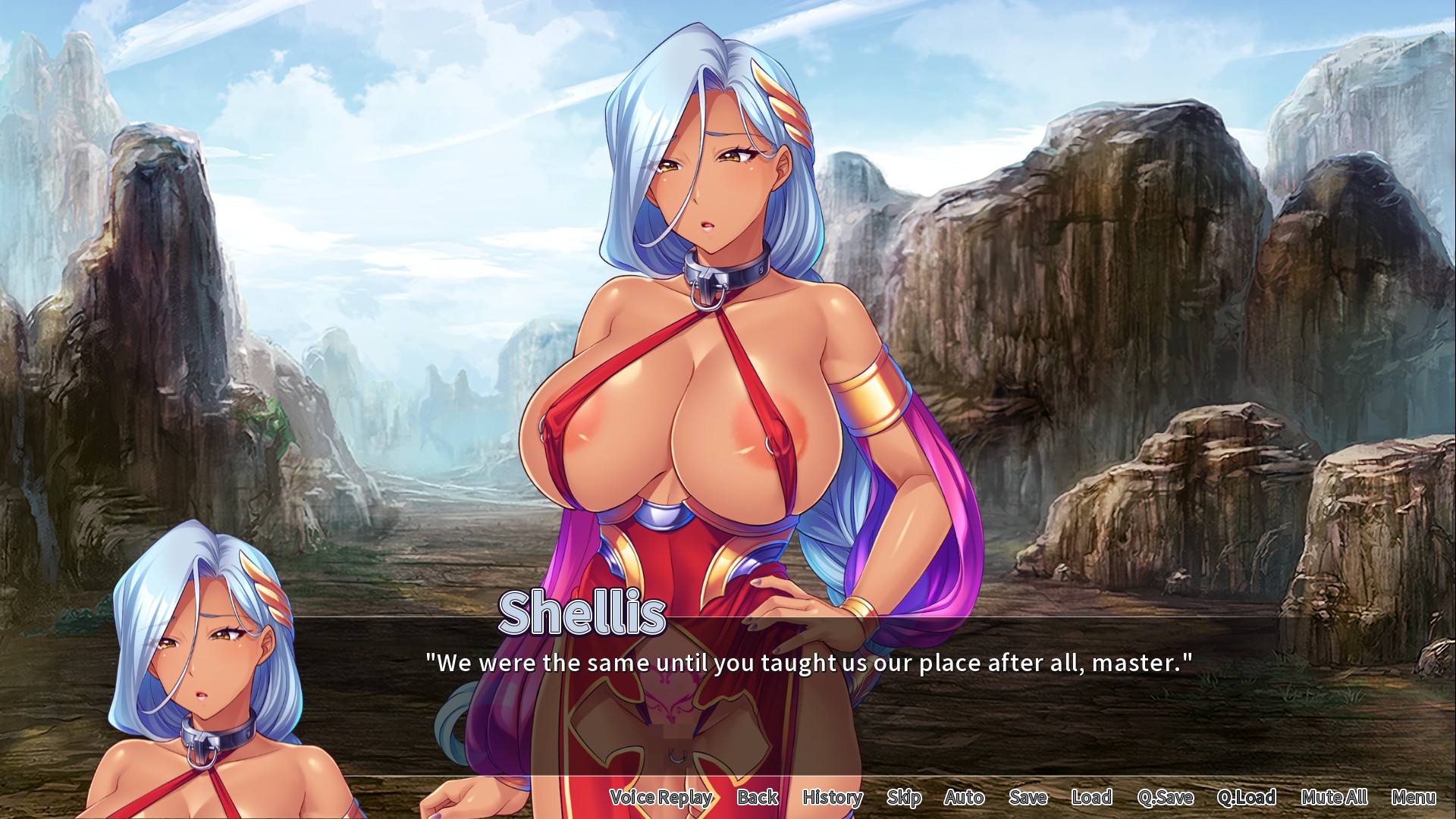 Chapter Five: Sound (2/5★)
Section One: Soundtrack
The music is dope, but it doesn't feel thematically appropriate. The fast paced, electronic beats felt more suitable for an action-packed genre. Unfortunately, "action" isn't one of this game's strong points.
Section Two: Sound Effects
The sound effects are jarring. They're too loud and unrefined — Shellis' "Thunder" left an uncomfortable ring in my ears. The plap plap of Noa's heroic wiener was difficult to listen to due to the quality of sound. On that topic, sex-scenes were a little much with excessive effects. I love how filling the goddesses' vaginas with piss sounds the same as filling a plastic cup under a faucet.
I loved to see *Tinkle, tinkle!" as the description for vaginal pissing.
Section Three: Voice Acting
I was pleasantly surprised to hear full voice acting for the female protagonists! I don't speak Japanese, so I can't vouch for the quality of acting — but I thoroughly enjoyed it. The goddesses are a delight, in and out of sex-scenes. Unfortunately, nobody else is voiced in the game.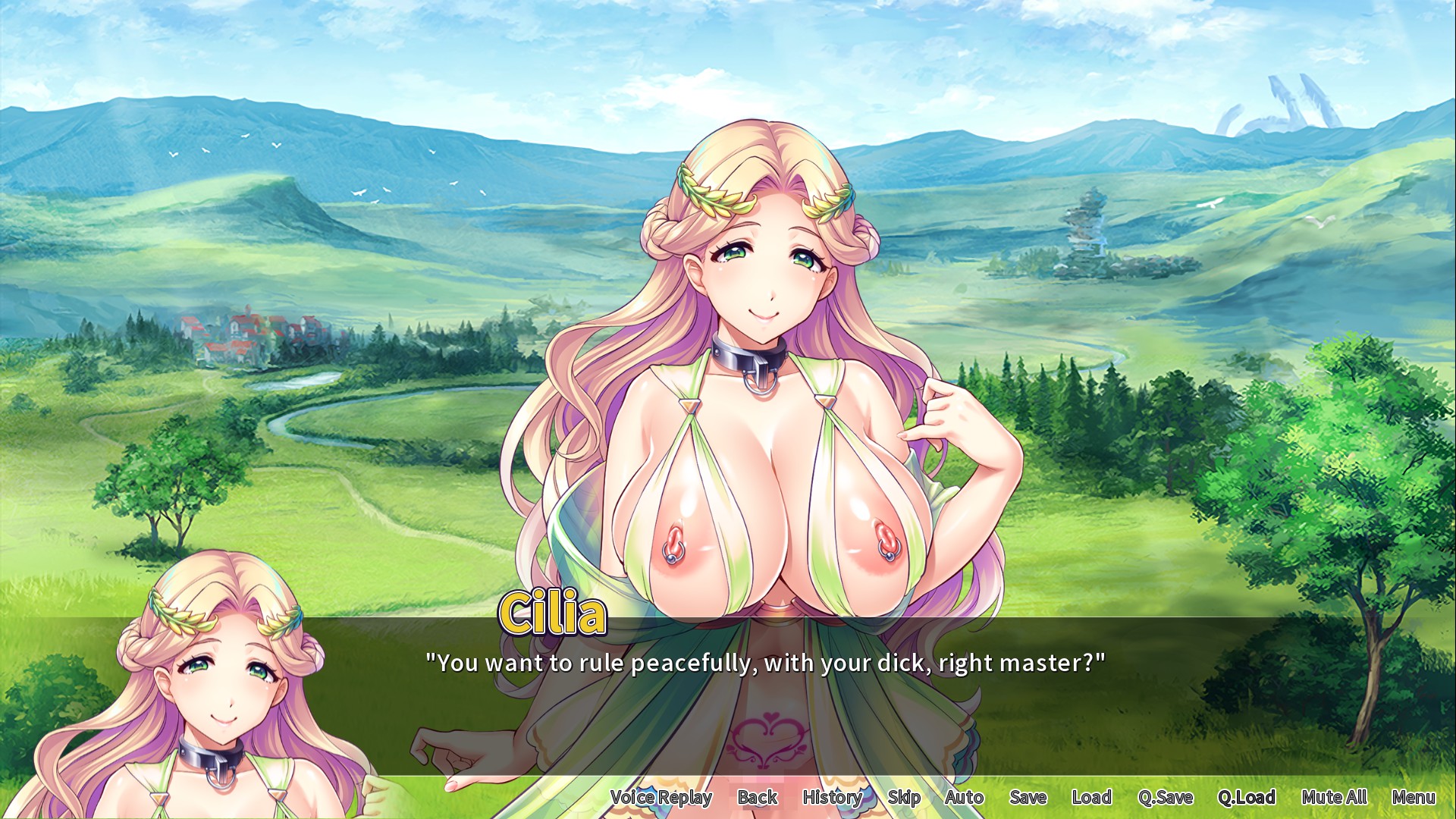 Chapter Six: Visuals (3/5★)
Section One: User-interface
Nothing about the user-interface says "fantasy", but it's clean and easy to navigate. However, there are spelling errors throughout the game which detract from the professionalism of the application.
I enjoyed the "Extras" menu, which provides players with an easy way to revisit images, sex-scenes, and "Chapters" throughout the story. It's a comprehensive set of menus with clear-cut thumbnails.
Section Two: Graphics
The characters and backgrounds are beautifully made (although the latter appear to be stock images). All in all, Hentai Heaven's Slutty Salvation looks great but unremarkable at the same time.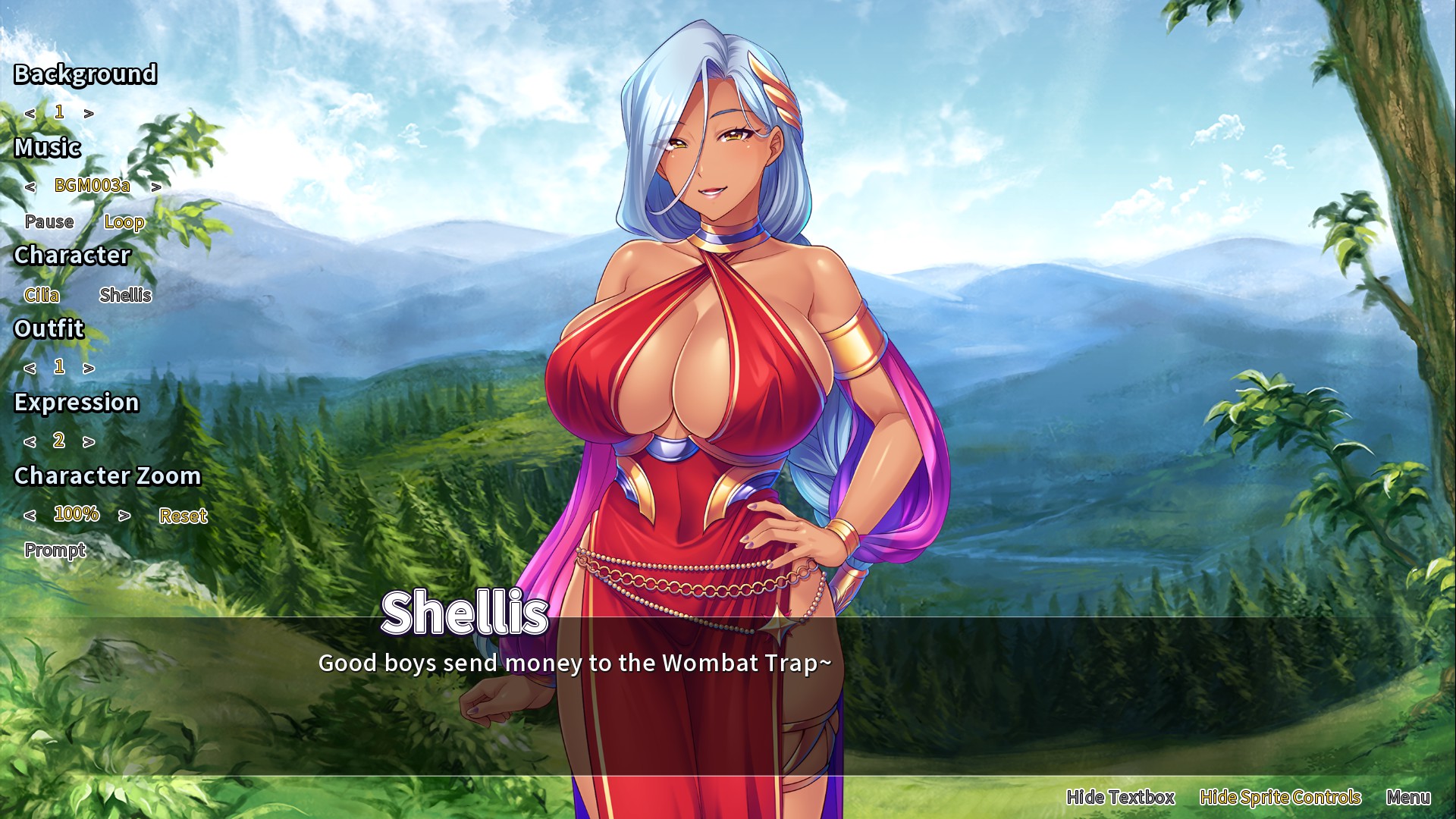 Chapter Seven: Verdict (3/5★)
If you're interesting in anything other than wanton sex with brain dead goddesses, this visual novel isn't for you. If you value "plot" or interesting characters, this visual novel isn't for you. But I'd be lying if I said I didn't pop a boner! The goddesses are crazy hot, and the unconventional fetishes were up my ally. Hentai Heaven's Slutty Salvation is steamy series of sex-scenes fit for a few hours of entertainment, but I can't recommend this game if you're looking for anything else as a reader.