---
---
Sensual Adventures – Episode 6 is a lewd, interactive film about a group of futas and lesbians "loosening up" at a massage parlor after their "marathon fuck session" from before.
---
Adult Content?
(FxFu) Sexual content.
Censorship?
No. Woot! Woot!
Hours of Gameplay?
Forty-five minutes.
Patch Available?
No, not necessary.
---
Foreword: published August 23rd, 2021
---
I received a free copy of this game for review purposes — thanks Puppetmaster3dx!
---
---
Gameplay: published August 23rd, 2021 (4/5★)
---
The Sensual Adventures are less games and more fancy films. Story-mode offers "26m51s of high quality, fully animated video" with a single "choose your own" scene (about seventeen minutes into the video). From "Customization", you may apply minor changes to the cast, such as coloration or glossy effects. Personally, I found them way too shiny, so adjustable "wetness" is a welcome feature. In "Movie-mode", you're able to set-up your own scenes using animations found within Story-mode. The great thing about Movie-mode is that actors are interchangeable, and the camera is totally maneuverable (maybe too maneuverable — I got lost exploring the world!)
I wish there were some "Easter eggs" to find through out the world. Maybe there could be unlockables to encourage exploration!
---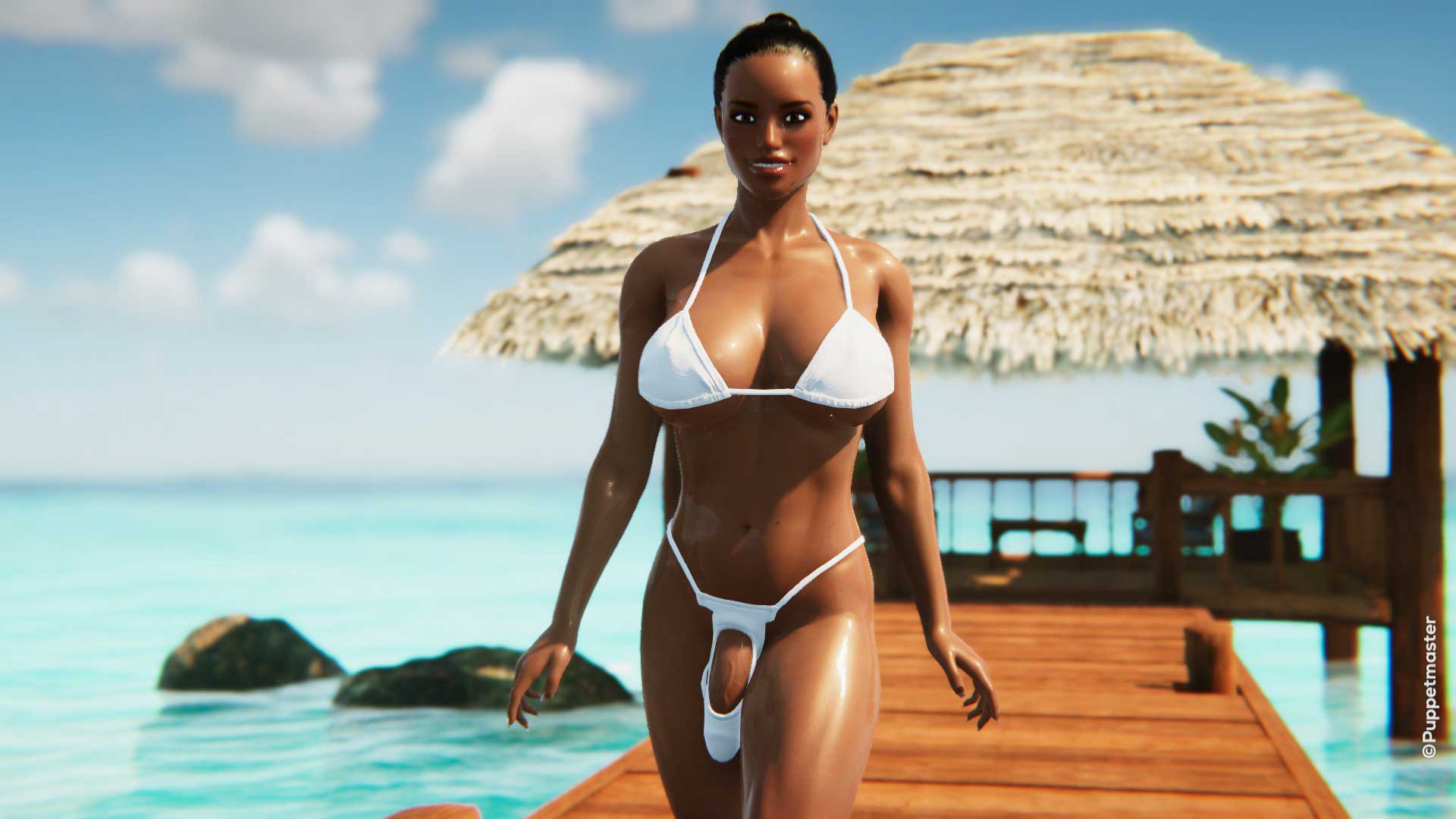 ---
---
Sexual Content: published August 23rd, 2021 (5/5★)
---
There are eleven animations to choose from (via "Movie Maker"), with up to four models to choose from (including two ladies and two futas). There are quite a bit of animations within "Story-mode", but Movie Maker offers a more streamlined (sexual) experience. Though the models are high-quality, sometimes they're hit by unnatural lighting and bends (which seem to be the result of engine or model limitations). I found the characters to be hit-or-miss, but I think there's someone for everyone. The animations are great, and I'm impressed by the ways Puppetmaster3dx managed to cram four actors into coherent sex-positions (like the "Lick Fuck Train", wow!) Unfortunately, like previous entries in the series, I'm still disappointed by the cum-shots. I think Puppetmaster3dx did a better job using the resources he has, but they're still blurry, painted-on effects. Physics-based cum when?
---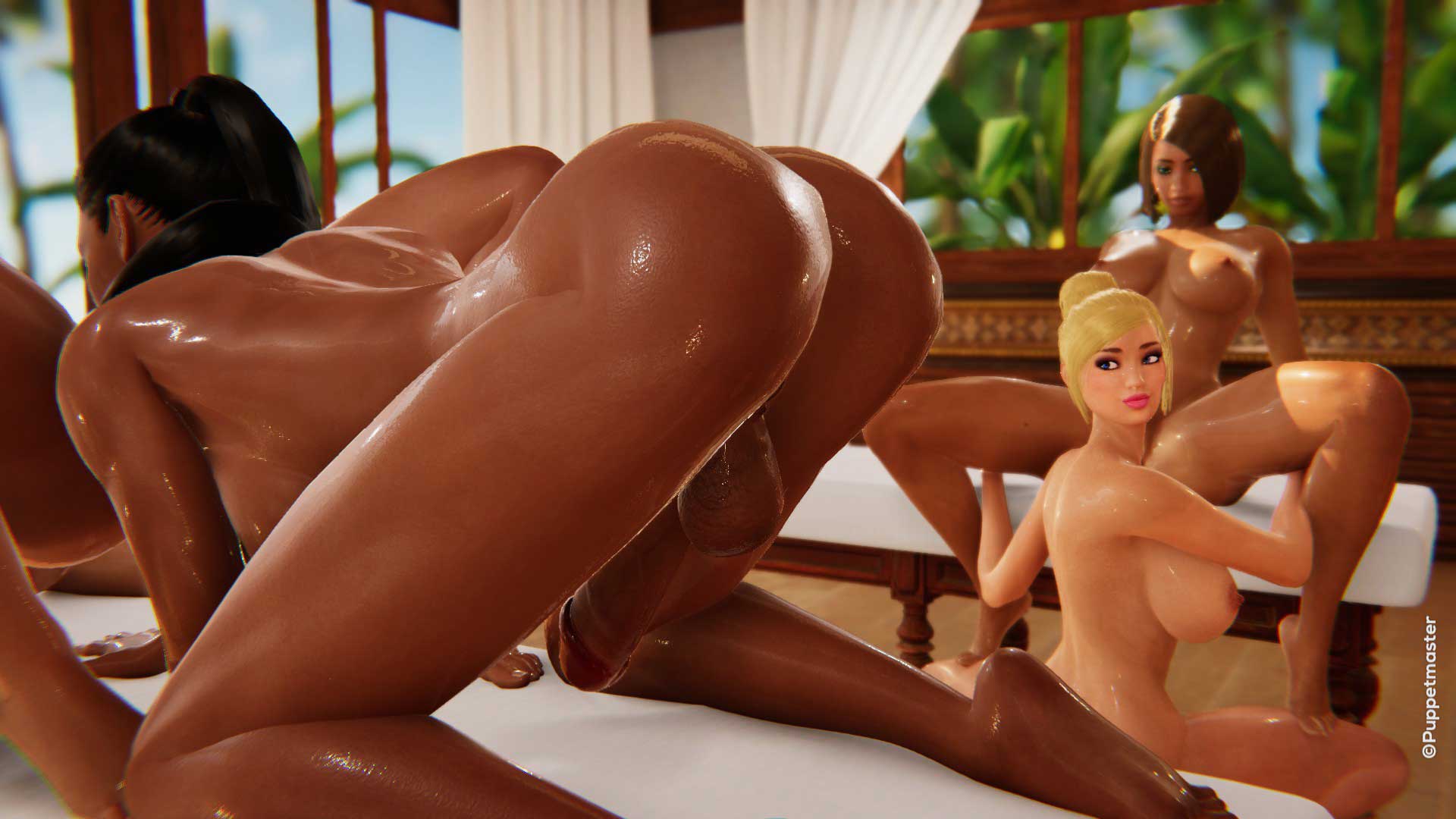 ---
---
Story: published August 23rd, 2021 (2/5★)
---
After a crazy "fuck session" with Brittany and Jasmine, Trinity is pooped! She takes a pause at a spa — but she wasn't expecting to see a butt-naked Marcia! It doesn't take long for one thing to lead to another (or for everybody to join the fun!)
Sort-of spoiler alert, but Marcia makes a passing reference to a long-lost treasure at the end of the movie. Everybody just seems to know what this treasure is, and the conversation comes out of nowhere — there's no lead-up, and no reason for anybody to be aware of the "stories". This cliff hanger is so contrived it genuinely made me upset.
---
---
Sound: published August 23rd, 2021 (4/5★)
---
I'm not sure if Puppetmaster3dx is aware, but the ambience played on the "PuppetMaster" splash-screen (and whenever you pause the game) has a sort of "dread" to it — like a distant car or chainsaw, it's a drone that'd sounds like something out of a horror game. The title-screen offers an peachy theme with loud animal sounds. I didn't mind the overpowering sound of nature, but some people may find them excessive. Thankfully, these sound effects can be adjusted via "Settings". There's a point in the track with a sharp transition — I think the music needs to be looped a little better. There's maybe two or three music tracks, leaving something to be desired in terms of variety. The voice acting is alright, but I wasn't able to get "immersed" into the game. I thought the characters and writing sounding like a cheesy porn flick you'd see from Brazzers or something (not that I have a Brazzers account "or something"!) I throughly enjoyed the sloppy sex — it's super satisfying to hear the sound of everybody's tongues violently smacking against pussies.
---
---
Visuals: published August 23rd, 2021 (4/5★)
---
The titlescreen is a pretty patchwork of lewd tiles, each of them a different menu or game mode. Overall, its pretty attractive! From "Settings", you may adjust audio, display and graphical preferences. This game soaks up quite a bit of processing power, so it may be necessary to tweak your "Settings" for a smooth experience. The "Help" menu offers tips to increase FPS, and a list of hotkeys and features. If you click on "More Games", Puppetmaster3dx's Steam page will open on your browser. Overall, the user-interface is a delight, and Puppetmaster3dx's logo isn't as intrusive as previous releases. The graphics are high-quality, but there's quite a bit of clipping and visual errors. I'm impressed by this game, but there's no overlooking the list of visual issues throughout the "story".
---
---
Verdict: published August 23rd, 2021 (4/5★)
---
If you're a fan of futas, you'll probably enjoy the Sensual Adventures series (and this title is no exception!) Puppetmaster3dx continues to deliver the highest-quality futa-animations I've seen to date on Steam, and his games are packaged with fully-voiced, recurring characters and story. However, if you're looking for anything that resembles a game, you're in for a bad time. Sensual Adventures – Episode 6 is basically a pornographic movie. There's nothing wrong with that, but it's important to make an informed decision. The writing for the series is usually mediocre (at best), but there wasn't enough writing in this game to hurt my brain. I understand why this game is priced at twenty dollars, but I think it's prohibitively expensive for all but dedicated fans (or viewers with very specific tastes). If you happen to have specific tastes, I'd pick up Sensual Adventures – Episode 6 during a sale!
---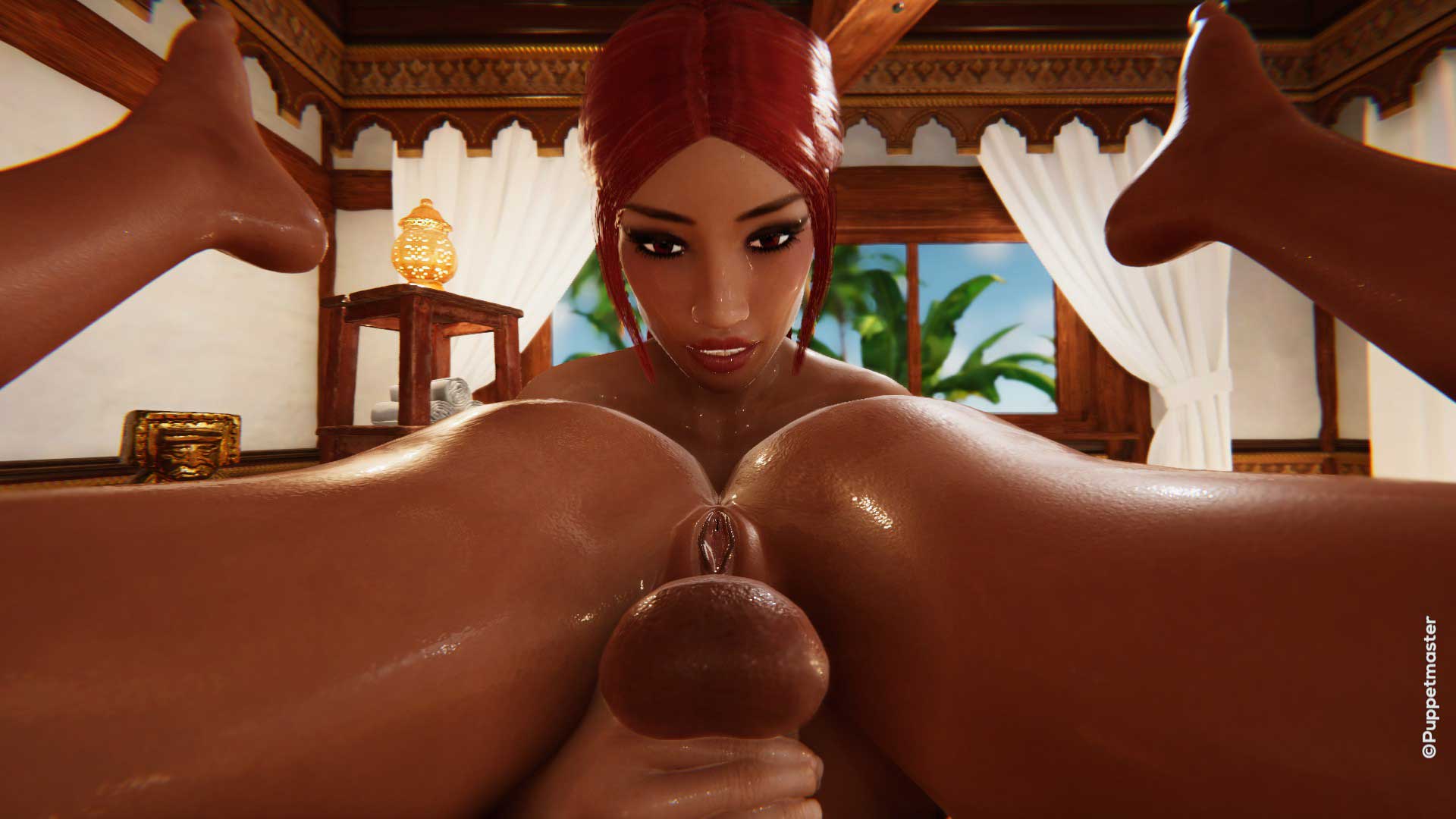 ---